$4 BILYONES STEEL MILL, MATUKOD SA MISOR
Posted: November 12, 2019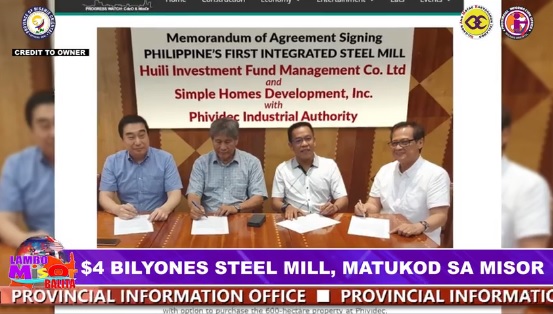 Balor $4 bilyones dolyares nga planta sa puthaw ang gilaumang matukod sa Misamis Oriental sa dili madugay partikular sulod sa Phividec Industrial Zone sa lungsod sa Villanueva. Kini, human ang Huili Investment Fund Management Co. Ltd. kon Huili Fund, pangagamhanang lokal sa Misamis Oriental pinaagi ni Gobernador Bambi Emano, Phividec Administrator Atty. Franklin Quijano ug Simple Homes Chief Executive Officer and President Mr. Robertino Pizarro nagpahigayon na sa pinermahany sa Memorandum of Agreement alang sa pagpalit sa 600 ektaryang luna sa nasangpit nga veterans' investment area sa lalawigan.
Matud ni Gobernador Bambi Emano, nagkinahanglan sa kapin kon kulang 10,000 ka empleyado ang nasangpit nga planta, pwera pa sa 40,000 padulong 50,000 ka trabahante alang sa pagtukod niini. Gikan sa panday, mason, laborer ug uban pa, gikinahanglan alang sa pagtukod sa nasangpit nga planta.
Kini nga $4 bilyones dolyares kon kapin kon kulang P200 milyones nga investment sa tanang mga kaigsuonang negosyante nagpamatuod sa katarong ug kaligdong sa pamunuan ni Gobernador Bambi Emano.
<iframe src="https://www.facebook.com/plugins/video.php?href=https%3A%2F%2Fwww.facebook.com%2Fmisorpio%2Fvideos%2F2518001091805841%2F&show_text=0&width=560″ width="560″ height="315″ style="border:none;overflow:hidden" scrolling="no" frameborder="0″ allowTransparency="true" allowFullScreen="true"></iframe>