AUTOMATIC THERMAL SCANNER OG HAND-FREE HANDWASHING FACILITY, GIPASIGARBO SA PEO
Posted: July 20, 2020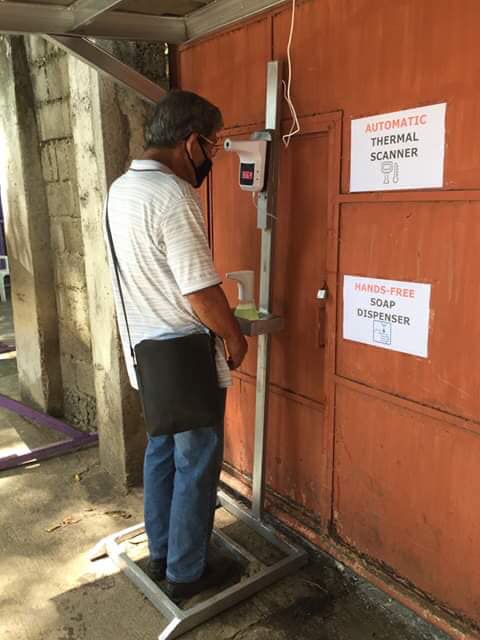 Sa pakigbatok sa tibuok kalibutan kontra COVID-19, labing importante ang seguridad sa matag usa nga mahilayo sa posibleng pagtakod sa maong sakit hilabi na sa mga tawo nga mo tungha sa ilang tagsa-tagsa ka mga trabaho.
Tungod sa pandemya, nagmugna ang Provincial Engineering Office (PEO), pinaagi ni Mr. Leo Dagacay ug usa ka inisyatibo sama sa automatic thermal scanner, hand-free soap og hand-free faucet gawas sa ilang opisina aron magpabiling luwas ang mga empleyado niini og ang mga tawo nga mobisita sa maong opisina.
Matod ni Mr. Leo Dagacay, nga pinaagi sa giya Engr. Mario Batar, Provincial Engineer, Engr. Paul Waga, Construction Head, Administrative Supervising Officer Chrysostom Cailing, namugna niya ang maong proyekto.
Sa di pa musulod sa compound sa PEO, gikinahanglan ang tanang tawo mupaubos sa automatic thermal scanning
"Naa may instruction ni Engr. Batar og ni Engr. Paul Waga, gi instruksyonan ko niya nga inai ang himuon for safety sa pag-gawas-sulod sa mga empleyado labaw na sa kadtong mga kontructor, mao to among gihimo."
Nagtuo sab si Mr. Cecilio Paceño, isip guard sa maong opisina, nga lakip sa pabor nga mahatag sa maong proyekto mao ang siguridad sa atong mga security frontliners nga maoy mo bantay, mo-giya sa mga sumusolod sa pagsunod sa maong lakang.
"Protokol everyday, ang akong buhaton sa taga buntag pag naay bisita ako silang e-remind about ana nga sila mag adto sa automatic thermal scanner,tudloan namo sila kay ugsahay dili sila kabalo. After that amo dayung e-tudlo didto nga mag wash sila usa sila makasulod sa among opisina."
Dako ang pagtuo sa atong Supervising Administrative Officer, Mr. Chrysostom Cailing nga ang maong proyekto magsilbi isip panagang sa posibleng pagtakod sa bisan unsang klase sa virus o bakteria kay lage kini hands-free.
"Through the initiative of the Provincial Engineer, Engr. Mario Batar,giubanan ni Engr. Paul Waga, kami naka desisyon nga magmugna niini nga proyekto. Tanan sila hands-free, because nga hand-free sila walay kontak sa any form of bacteria or virus nga nipilit sa atong ekwipo. Kay hands-free man, dako ang posibilidad nga malikay kita sa virus.
Gi awhag karon sa opisina sa Provincial Engineering sa pagpangulo ni Engr. Mario Batar nga ang tanan opisina sa Kapitolyo Probinsyal susama kanila makamugna sa maong inisyatibo alang sa luwas og makanunayon nga pagserbisyo sa katawhan.
Wa magkuwang ang kapitolyo pinaagi sa mandato ni Gobernador Bambi Emano sa pagmugna ug mga pamaagi aron batukan ang makamatay nga sakit. Gani, ang maong inisyatibo sa PEO, mao ang labing unang buhatan nga nagbuhat sa maong proyekto.