BAKANTENG TRABAHO, DAGHAN SA PESO
Posted: June 22, 2020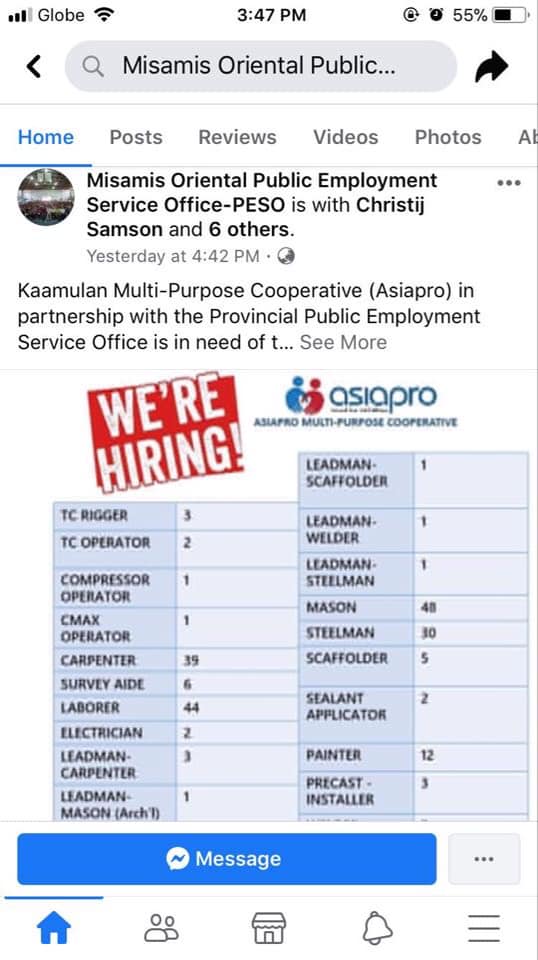 PADAYON karon ang posting sa bakanteng trabaho ang Public Employment Services Office (PESO) alang niadtong nangita ug kapangitaan.
Gamit ang social media, Facebook.com, mahimong magkuti-kuti ang job hunters pinaagi sa PESO.misamisoriental. Kini, aron malikayan nga magdasok ang aplikante sa buhatan sa PESO agi'g pagsunod sa social distancing isip preventive measure sa pagtakboy sa coronavirus disease 2019.
Dali ra ang pag-apply, kon ugaling dunay naangayan nga for-hire o job vacancies, mag-message lang sa employer gamit ang ilang FB page o e-mail address aron magiyahan sa mosunod nga instruction.
Matud ni Ms. Rabe, dili angay magpahulga sa COVID-19 nga maoy hinungdan magsalig na lang sa hinabang sa gobyerno ug dili na intawon makapanarbaho gamit ang internet.
Katimbayayong sa PESO ang Department of Labor and Employment (DOLE) ug Overseas Workers Welfare Administration (OWWA) sa ilang mga programang panginabuhian taliwala ning pandemya.