BATAKANG SERBISYO UG SUPORTA GITUNOL SA KAPITOLYO PROBINSYAL SA SITIO KAMANSI, LAGONGLONG BY: DANNY OBSIOMA JR./PIO
Posted: September 21, 2021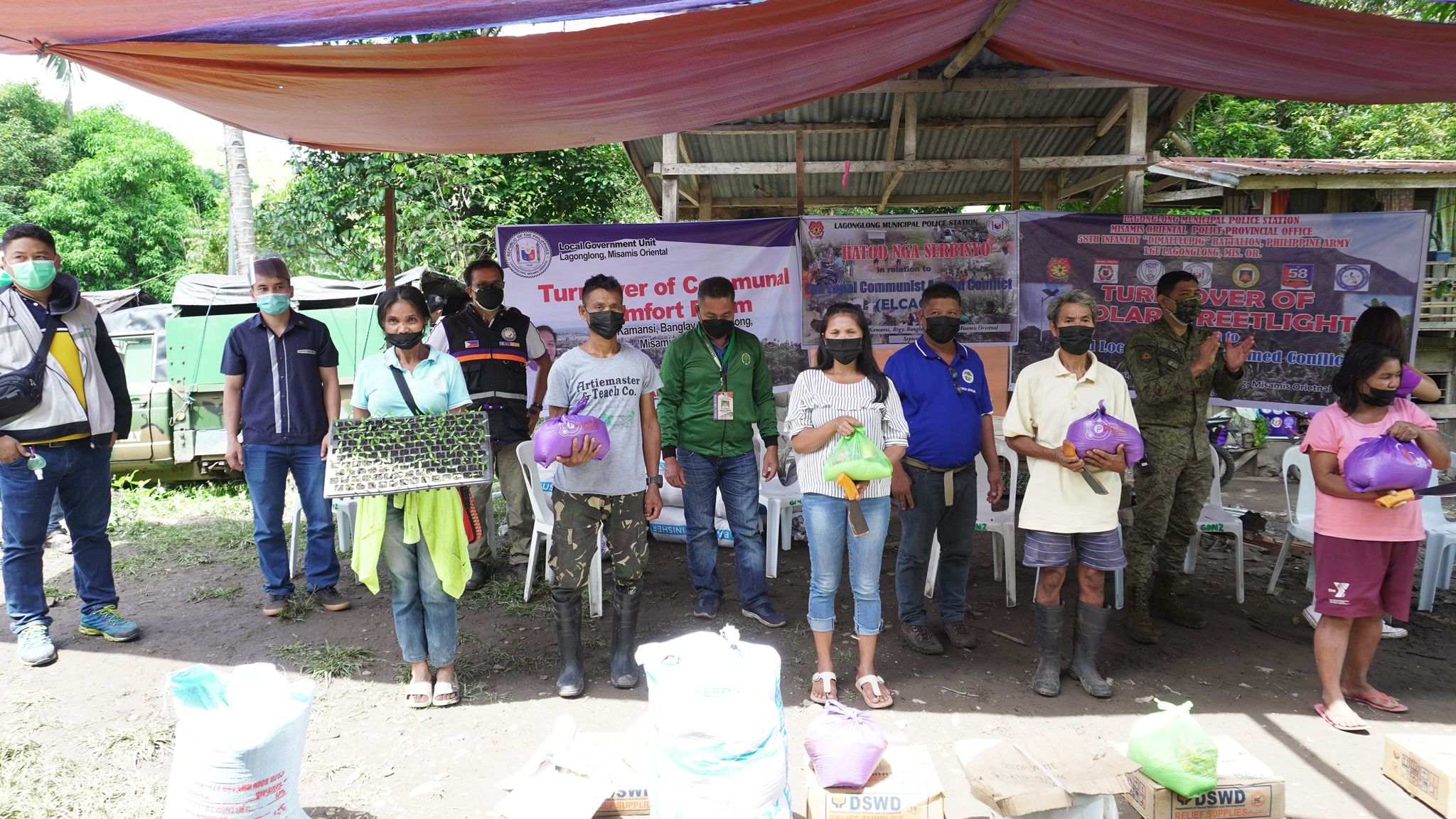 NAGMABUNGAHON ang pagbisita sa Panggamhanang Probinsya sa Misamis Oriental sa Sitio Kamansi, Barangay Banglay, Lagonglong Misamis Oriental aron maghatod og mga batakang serbisyo ug hinabang ngadto sa mga residente.
Adlawng Miyerkules, Septiyembre 15, 2021, subling gibisitahan ang maong Sitio sa buhatan sa Provincial Agriculture Office (PAGRO) ug Provincial Social Welfare and Development Office (PSWDO) aron maghatod og tabang alang sa mga lumulupyo sa lugar.
Ang PAGRO nga gipangunahan ni Provincial Agriculturist Jose Apollo Pacamalan, mitunol sa mga klase-klaseng pananom ug mga seedlings sa humay, OPV corn, organic fertilizer, upland rice seedlings ug mga vegetable seedlings aron matanom sa mga residente.
Sa laing bahin ang PSWDO uban sa ilang mga staff, mitunol og 136 ka food packs nga adunay sulod nga 5 kilo nga bugas ug mga delata alang sa mga residente.
Kabahin sa pagbisita sa lugar mao ang pag turn-over sa 10 ka mga solar lights nga gipondohan sa PNP pinaagi sa ELCAC nga programa ni Presidente Rodrigo Duterte aron nga tunhay na nga maangkon sa mga kaniadtong rebel infested nga mga lugar ang kahusay ug kalinaw pinaagi sa paghatod ug paghatag sa mga batakang serbisyo nga ilang gikinahanglan sa mga katawhan ug residente sa maong mga lugar.
Anaa usab sa maong kalihokan ang presensya sa mga nagkalain-laing ahensya sa gobyerno ug mga pribadong sektor susama sa Department of Agriculture – X, Philippine Crop Insurance Corporation, Minergy Power Corporation, Lagonglong Municipal Police Station, Lagonglong Municipal Agriculture Office, Agro-Forestry Farmers Association of Sitio Kamansi (AFFASKA) ug 58 IB.
Mapasalamaton ang mga residente sa mga hinabang nga gitunol ngadto kanila hilabina kang Governor Bambi Emano tungod sa makanunayong suporta niini sa maong lugar nga sa mga naunang serbisyo nahatagan na ug panubig ang mga residente.
"Nagpasalamat ko ni Gov. Bambi Emano, nga nakaabot gyud dinhi ang tubig tungod sa iyang tabang nga makaabot gyud ang tubig dinhi sa Sitio Kamansi." Ang mapasalamatong mensahe ni Lilia Zarate alang kang Gov. Bambi.
Padayon nga natagamtaman sa Sitio Kamansi ang kabag-ohan nga dugay na nilang gipangandoy nga mahatagan sila og maayong kahimtang sa panginabuhian ug pinaagi sa tabang ug suporta sa gobyerno ug mga pribadong sektor, makab-ot na sa mga residente ang tiunay nga haruhay nga panginabuhi sa dili madugay.
(HULAGWAY KUHA NI ANDY PACAMALAN/PIO)