EMANO MIHATAG UG 4 MIL KA TONNER BAGS SA BOC, KOREAN GARBAGE HIPUSON
Posted: November 12, 2019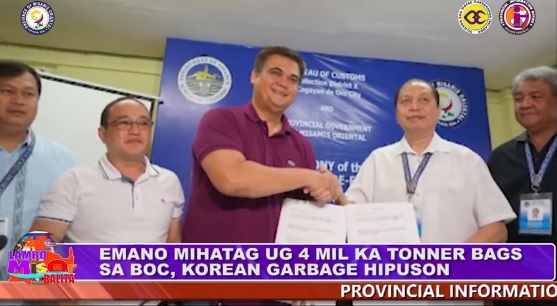 Gipaningkamotan ni Gobernador Bambi Emano nga mapadali gayud ang pagpanghakot o pagpanghipos sa mga nangabungkag na nga tone-toneladang basura nga nahimutang pa gihapon sa planta sa Verde Soko nga anaa sa Brgy. Santa Cruz, Tagoloan, Misamis Oriental, pinaagi sa pag-donate ug kwatro mil (4,000) ka mga tonner bags ug mga equipment nga maoy gamiton sa pag-sacking ug usab sa singko mil (5,000) ka toneladang basura.
Oktubre 29, 2019, gipahigayon ang Turn-over Ceremony sa mga Tonner Bags ug Equipments alang sa Re-exportation sa mga Korean Garbage gikan sa kagamhanang lokal sa Misamis Oriental ngadto sa Bureau of Customs, sa Brgy. Puntod, CDO City.
Gipahigayon ang Press Conference human sa paglagda sa Memorandum Of Agreement pinaagi ni Gov. Bambi Emano nga girepresentahan ni Board Member Gerardo "Boboy" Sabal III ug Board Member Eric Khu, kauban sila District Collector John M. Simon ug Deputy Collector Marvin Mison.
Kahinumduman nga duha ka hugna ang pagpalusot sa illegal shipments sa mga hazardous waste gikan sa nasud sa South Korea nga miabot dinhi sa lalawigan nga gipalusot sa kompanyang Verde soko nga halos mag-usa ka tuig karon sulod sa ilang planta.
Tungod sa kolektibong paningkamut sa inter-agencies ug multisectoral efforts hayan mabalik na ngadtu sa South Korea ang mga basura sa dili pa mahuman ang 2019.
"Dili na kinahanglan pang madugay, kung unsay problema angayan lang pagahatagan ug solusyon sa daling panahon," matud ni Gobernador Emano.
Pagalauman nga magamit na ang kompletong singko mil (5,000) ka tonner bags ug duha ka payloaders ug fuel lakip na ang mga trabahante tungod sa pursigidong aksyon ni Emano, gikan sa pagsugod sa pagpanghipos ug lakip sa pagpanglimpyo sa maong lugar nga nahimutangan sa mga basura.
Gipaabot usab ni Gobernador Bambi Emano ang iyang kalipay pinaagi ni BM Boboy Sabal sa dihang mihisgot kini kabahin na sa kalampusan sa maong paningkamot.
"Gihatagan kini ug prayoridad ni Gob. Emano tungod kay nagtoo siya nga dili na ni angayan pang padugayon kay ang katawhan ang mag-antos", sulti ni BM Sabal.
Nagalaum si Gobernador Bambi Emano nga dili na masubli ang maong panghitabu sa umaabot katuigan samtang iyang giawhag ang mga negosyante ug mga langyaw nga likayan ang pag import og basura dinhi sa lalawigan sa ngalan sa Business Enterprise kay dili basurahan ang Misamis Oriental.
<iframe src="https://www.facebook.com/plugins/video.php?href=https%3A%2F%2Fwww.facebook.com%2Fmisorpio%2Fvideos%2F554129108685865%2F&show_text=0&width=560″ width="560″ height="315″ style="border:none;overflow:hidden" scrolling="no" frameborder="0″ allowTransparency="true" allowFullScreen="true"></iframe>