GOB BAMBI PADAYON MOBAROG UG MOPROTEKTAR SA KATAWHAN SA MISOR
Posted: May 21, 2020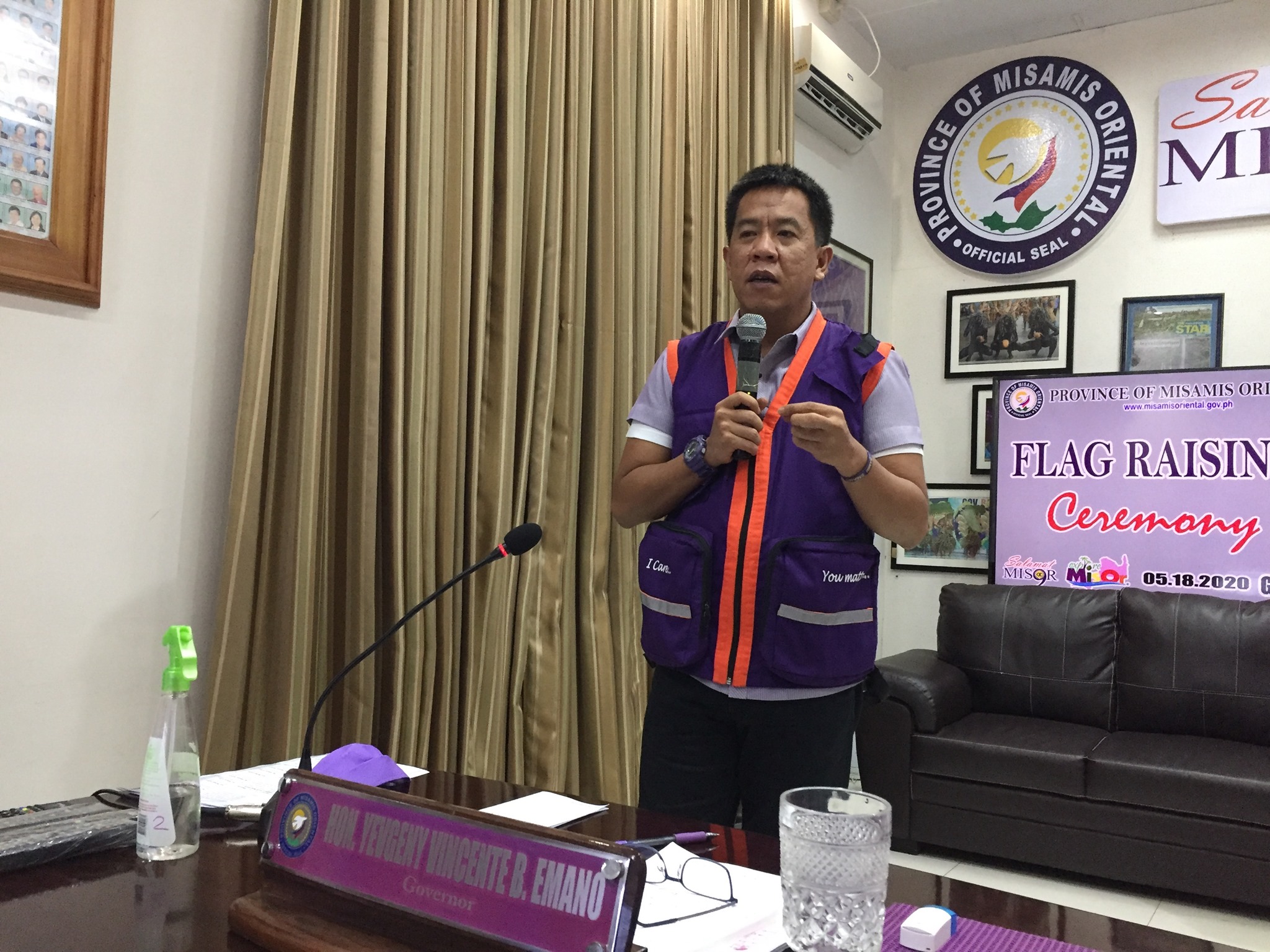 TALIWALA pa man di malikayan ni Gobernador Bambi Emano nga magoul ug mabalaka sa posibleng mahitabo sa umaabot niining padayon ang pakigbatok sa Corona Virus Disease (Covid-19).
Gipaabot sa amahan sa lalawigan nga magpadayon ang ilang pakigbatok kauban ang Provincial Task Force for Covid 19 sa pagpanguna ni Dr. Jerie Calingasan nga maprotektahan lamang ang katawhan sa Misamis Oriental.
Ngani, walay puas ang pagdayeg ni Gov Bambi kang Dr. Calingasan gumikan sa ka strikto niini adunay resulta ang pakigbisog ug pakigbatok niini sa Covid gumikan pabiling walay kaso sa Covid 19 sa lalawigan nagpamatoud lamang kini nga mas giunhan sa lalawigan ang unsay angayan buhaton aron walay mataptan sa makamatay nga virus.
"MisOr had been always one step ahead of the virus but i feel worries to be honest,I am sometimes having a sleepless night because of with the current pronouncement from all sectors partners in the government local and national when we think of relaxing it would scarily mean kahadlok ta sa gitawag nato nga second wave," matud ni Gov Bambi.
Bisan pa sab sa pagpanabotahe sa pipila sa mga gabayan nga ilang gipatuman pabilin nga mobarog ug motindog ang amahan sa lalawigan ug gipasalig niini nga panalipdan ang katawhan.
"Even a lot of attempts nga gaisabotahe ang pagpaningkamot ni Dr. Jerie Calingasan, we will stand taman sa among makaya, hangtod sa itugot nga balaod we will stand, we will fight together, we just hope that people especially from the national government will be able to see what Dr. Jerie has done for the Province of MisOr," matud ni Governor Bambi.