GOV. BAMBI EMANO REALIZES BURNAY SCHOOL DREAMT FENCE By JANE SALIMBAO/PIO
Posted: November 10, 2021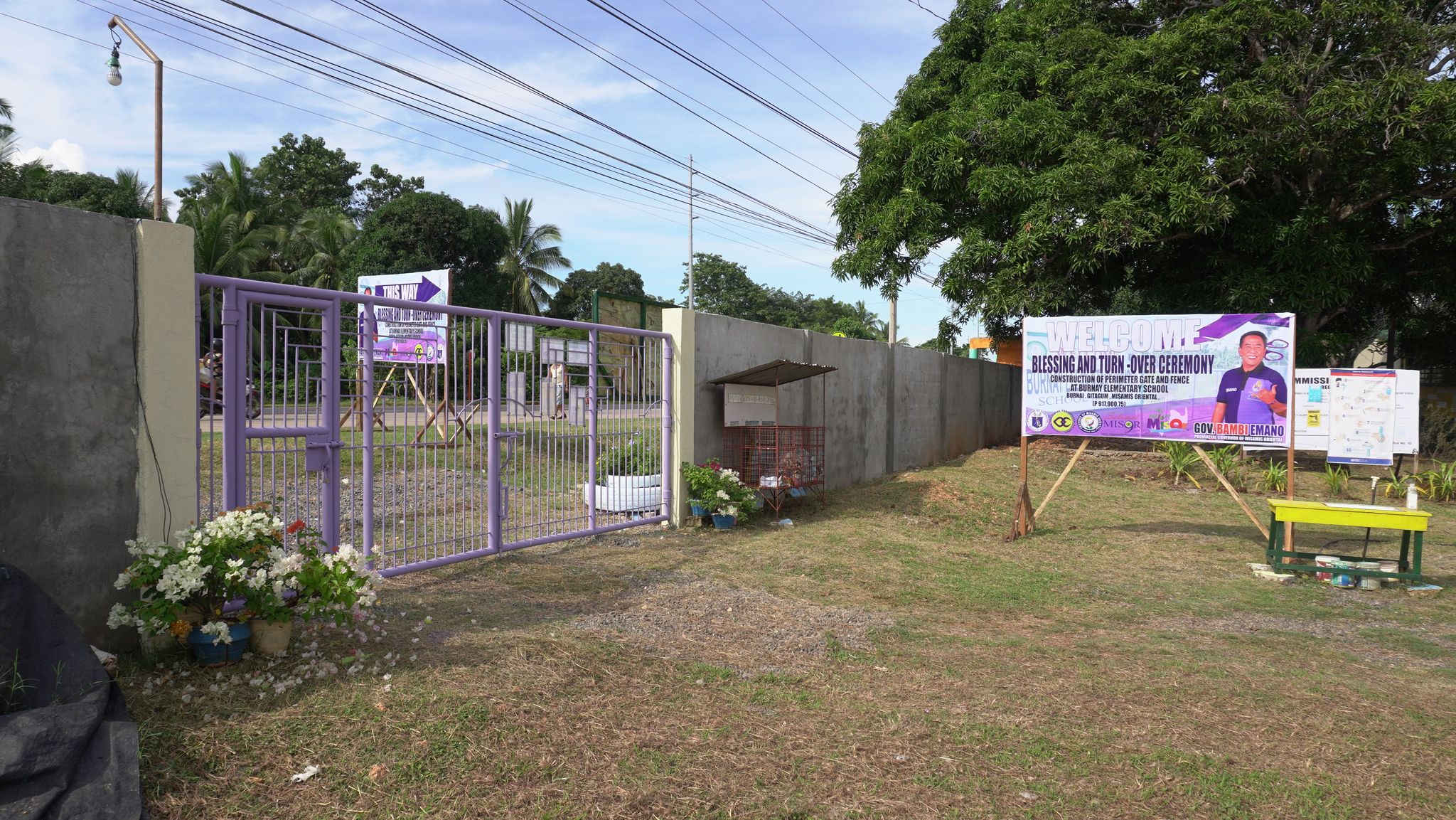 GOVERNOR Bambi Emano was able to realize the decades-old dreamed school perimeter fence and gate for Burnay Elementary School in Brgy. Burnay, Gitagum, Misamis Oriental, School Information Officer Ms. Peggy Obani said recently.
Ms. Obani said the school is more than grateful to the Provincial Government for sharing its resources to the school using the Special Education Fund (SEF).
"Nagpasalamat kog dako nga ang gate dinhi sa among eskwelahan kay natuman na. Kini man gud nga gate importante gyud ni sa mga bata kay along the highway baya mi. Pasalamat mig dako kay na realize ra gyud ang gate, ang permiro dane sa luyo ug karon dane sa atubang ang last," Ms. Obani said.
On November 3, 2021, the project, built by the Provincial Engineering Office headed by Provincial Engineer Prisco Valmoria, was formally turned over to the school management. The project is 102.045 meters in length amounting to ₱917,900.75.
Vice Governor Jigjag Pelaez; Board Members Dexter Yasay, Nancy Madjos, Gerardo Sabal III, and Syremae Emano; with Gitagum Vice Mayor Rudy Damasing, along with Burnay Elementary School Head Ms. Wayna F. Jumawan, GPTA President Mr. Juven I. Bagquio, Barangay Officials and parents witnessed the ceremony. They were all amazed how Governor Emano loves to support not only schools in Gitagum but the entire Province of Misamis Oriental as well.
A total of P2.8-million worth of projects is implemented in said school since 2018.
Ms. Obani said the construction of perimeter fence and gate is in preparation for the upcoming face-to-face classes to assure safety of schoolchildren.