GOV BAMBI TO LEAD GROUNDBREAKING OF P180M ROAD PROJECT IN BALINGASAG
Posted: February 9, 2018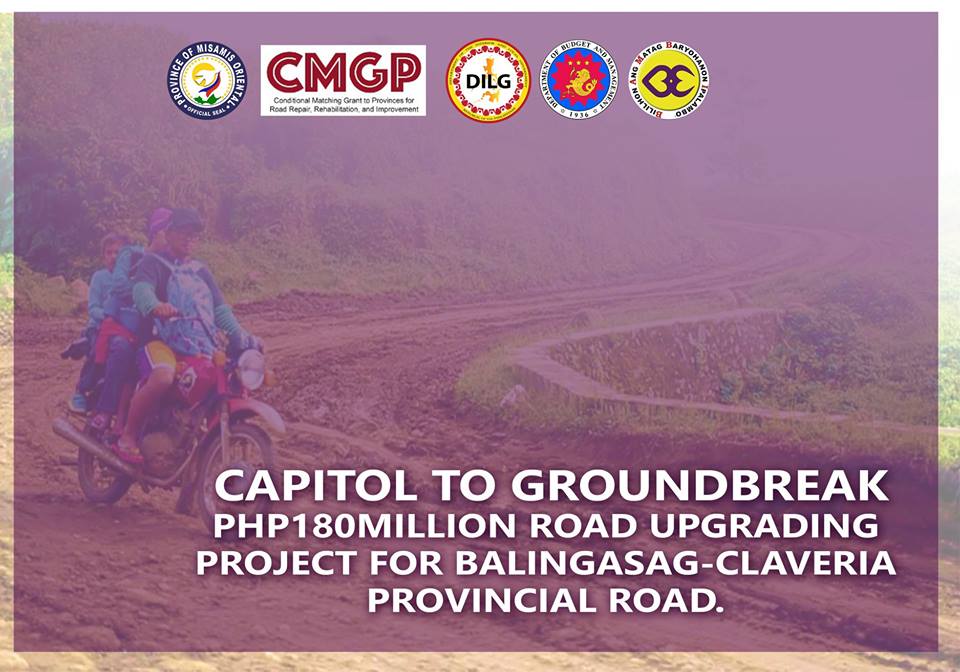 [et_pb_section admin_label="section"][et_pb_row admin_label="row"][et_pb_column type="4_4″][et_pb_gallery admin_label="Gallery" fullwidth="off" show_title_and_caption="off" show_pagination="on" background_layout="light" auto="off" hover_overlay_color="rgba(255,255,255,0.9)" caption_all_caps="off" use_border_color="off" border_color="#ffffff" border_style="solid" posts_number="3″ gallery_ids="1432,1433,1434,1435″]
[/et_pb_gallery][et_pb_text admin_label="Text" background_layout="light" text_orientation="left" use_border_color="off" border_color="#ffffff" border_style="solid"]
Governor Bambi Emano will lead the ground breaking rites of Balingasag-Pelaez-Impakibil Provincial Road Upgrading Project worth P180 million in Barangay Baliwagan in Balingasag town in Misamis Oriental on Today, February 8, 2018.
The 15.88-kilometer road project, according to the Provincial Engineering Office, will have a width of 6.10 meters and a 0.20 meter (8 inches) thick which is contracted by Syndtite Construction Corporation.
The project will connect Barangay Baliwagan in Balingasag to Barangay Bulawayo in Claveria town.
Other than Baliwagan, barangays San Juan, Minabu, Sulu (Sitio Samay), Pelaez (Sitio Bulahan) and Impakibil will benefit the said project.
Governor Emano said the project is funded under the Conditional Matching Grant to Provinces (CMGP) of the Department of Interior and Local Government (DILG).
The governor said this project is apart from the PAMANA Program fund of Secretary Jesus Duriza, Presidential Adviser on the Peace Process, in a bid to alleviate the living condition of the poor and to address insurgencies in poverty-stricken villages in the hinterlands.
"Nakakuha kita ug pundo sa PAMANA program ubos ni Sec. Jess Duirza, pagsemento sa dalan, yawat makatubag sa kahusay ug kalinaw," Governor Emano said.
He even announced that the Provincial Government is currently processing the P100 million road cementing project from Opol proper to Barangay Tingalan to Bagocboc to Nangcaon.
"There are some of our projects which are scheduled for ground breaking in the coming days. This will not take long," the governor added.
[/et_pb_text][/et_pb_column][/et_pb_row][/et_pb_section]