GOV. EMANO, GIPANGANDAMAN ANG HAGIT SA NEW NORMAL
Posted: June 2, 2020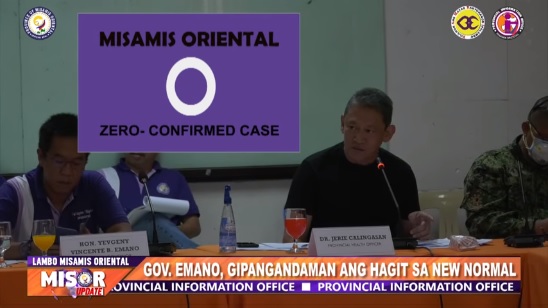 ATOL sa ika-walo nga virtual flagraising ceremony sa pangagamhanang lokal sa Misamis Oriental niadtong Mayo 26, gimanduan ni Gov. Bambi Emano ang tanang miyembro sa Misamis Oriental Department heads Association (MODHA) nga mangandam niining gitawag "new normal."
Gikan sa pagbuto sa coronavirus disease 2019 pandemic, mikabat na sa upat ka bulan ang pagpakigbisog sa Provincial Task Force for COVID-19 dinhi sa Misamis Oriental pinaagi sa pagpangulo ni Dr. Jerie Calingasan.
Bisan tuod zero-confirmed case pa sa makamatay nga virus ang probinsiya, naniguro si Gov. Emano nga makasunod ang tanang Misamisnon sa new normal, hilabina sa ilang inadlaw-adlaw nga panginabuhi ug pagbisita sa kapitolyo sa ilang nagkadaiyang transaksiyon.
"I hope we will be able to recover. So, I am hoping that as I ordered all the department heads to have prepared already your new normal strategies because I think we will have influx already of people coming to and coming in and out of Misamis Oriental" sulti ni Gov. Emano.
Bisan pa sa pagdagsang sa returning overseas Filipino workers (OFWs) ug locally stranded individuals (LSIs) dinhi sa lalawigan, kinahanglan plastado ang tanan aron magpabiling luwas ang Misamis Oriental sa gikalisangang sakit.