GOV. EMANO, MIPAHALIPAY SA MUSLIM COMMUNITIES SA EID AL FITR
Posted: May 27, 2020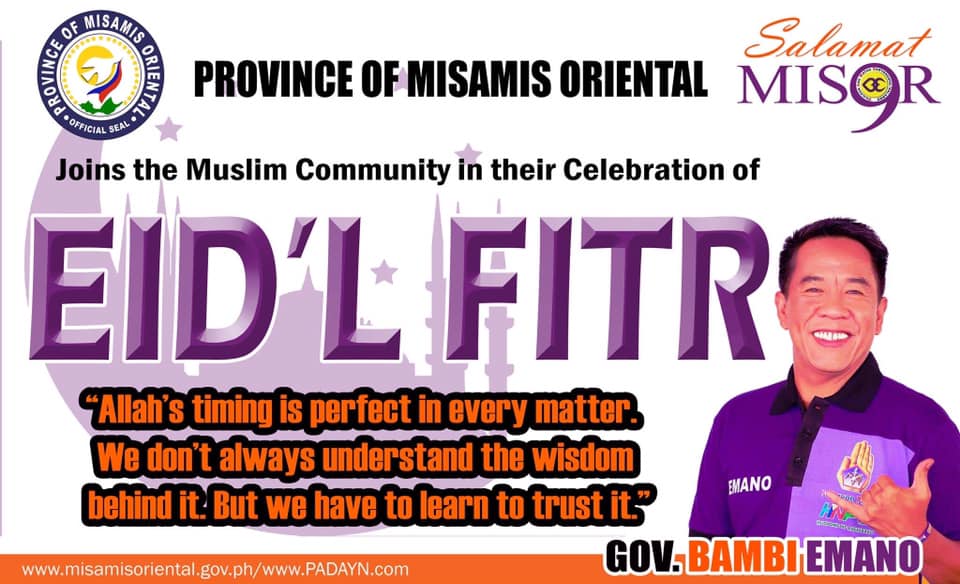 NAGPADANGAT sa iyang pahalipay si Gov. Bambi Emano ngadto sa tanang kaigsuonang Muslim sa tibuok lalawigan sa Misamis Oriental ug dakbayan sa Cagayan de Oro ning pagkatapos sa Ramadan Festival kon Eid Al Fitr karong Lunes, Mayo 25, 2020.
Dakung pasalamat ni Gov. Emano sa malipayon ug malinawon nga pagsaulog sa usa ka bulan nga puasa sa tanang relihiyosong Muslim lakip sa ilang mga pag-ampo ug pamalandong, hilabina ning pakigbatok sa coronavirus disease 2019 (COVID-19).
Pasalamat pa sa Gobernador sa ilang paglakip sa pangalyupo ang padayon nga kalinaw, pagsinabtanay ug paghinatagay nga maoy naghari uyamot ning panahon sa krisis nga nagdala'g hulga sa panglawas sa tawo ug ekonomiya.
"I congratulate the Muslim communities not only in Misamis Oriental and Cagayan de Oro, but the entire Philippines. We hope for the better in the coming days as we continue to battle COVID-19. We wish, hope and pray that you continue to help us to ask our creator to strengthen our beliefs that in togetherness we will overcome these trials," si Gov. Emano nagkanayon.