JAPANESE ENCEPHALITIS
Posted: September 13, 2017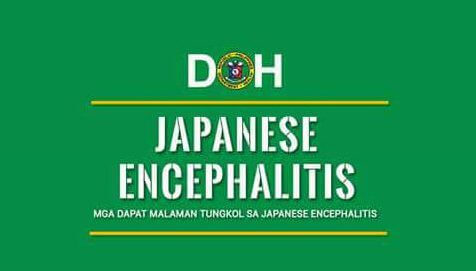 [et_pb_section admin_label="section"][et_pb_row admin_label="row"][et_pb_column type="4_4″][et_pb_gallery admin_label="Gallery" fullwidth="off" show_title_and_caption="off" show_pagination="on" background_layout="light" auto="off" hover_overlay_color="rgba(255,255,255,0.9)" caption_all_caps="off" use_border_color="off" border_color="#ffffff" border_style="solid" posts_number="3″ /][et_pb_text admin_label="Text" background_layout="light" text_orientation="left" use_border_color="off" border_color="#ffffff" border_style="solid"]
Karong panahon sa ting-ulan, gawas sa dengue laing sakit ang gipahimangno karon sa buhatan sa DOH gikan gihapon sa paak sa lamok. Kini ang "Japanese Encephalitis". Padayon natong i-mintinar ang kahindik sa atong palibot. Mag-amping kita kanunay!
UNSA ANG JAPANESE ENCEPHALITIS:
Virus transmitted by mosquito bites. The virus comes from pigs and waterbirds and is transmitted to humans via the Culex mosquito.
SIGNS & SYMPTOMS:
High Fever, Headache, Stiff Neck, Disorientation, Paralysis, Seizures, Coma, Death.
IS THERE A CURE?
J.E. has no cure, Treatment focuses on RELIEVING SYMPTOMS and supporting the patient to fight infection. J.E. can be prevented by vaccination.
LIKELY INCREASE IN J.E. TRANSMISSION WITH THE FOLLOWING:
* Presence of pigs and waterbirds. Domestic chickens and ducks may also carry the virus.
* Proximity to Culex (mosquito) breeding sites, such as ricefields and water ponds. JE has also been detected in urban areas.
* Rainy season
HOW TO PREVENT J.E.?
1. Use repellents, mosquito nets, and wearing clothes with good coverage.
2. Vaccination
[/et_pb_text][/et_pb_column][/et_pb_row][/et_pb_section]