KAMP WAPAK, IPAHIGAYON SA PYDO
Posted: August 6, 2018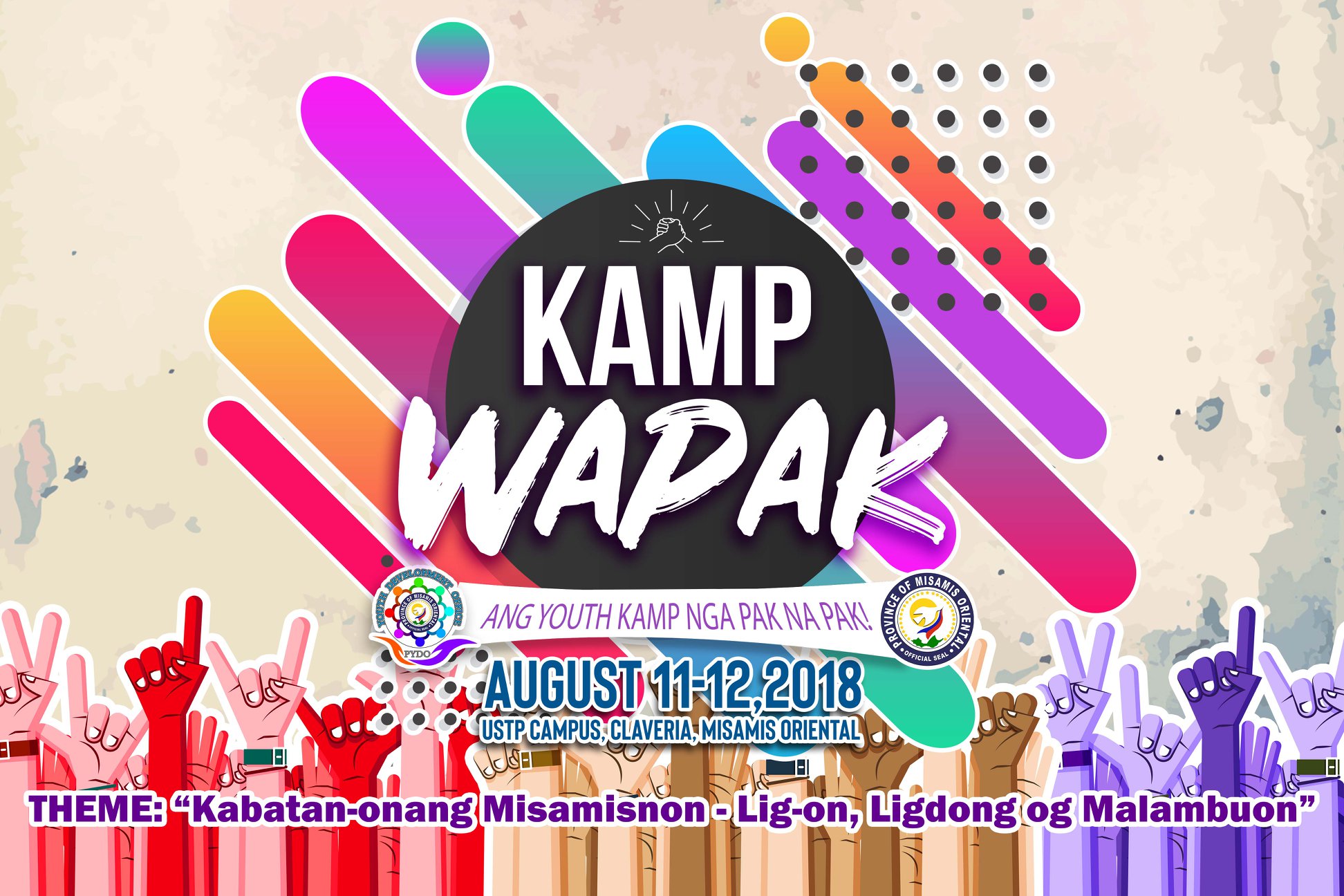 [et_pb_section admin_label="section"][et_pb_row admin_label="row"][et_pb_column type="4_4″][et_pb_text admin_label="Text" background_layout="light" text_orientation="left" use_border_color="off" border_color="#ffffff" border_style="solid"]
"To empower the youth and recognize their significant role in nation-building."
Kini ang inspirasyon sa mga kadagkoan sa Provincial Youth Development Office (PYDO) sa Misamis Oriental sa ilang umalabot nga pagpahigayon sa panagtapok sa kabatan-onan sa lalawigan pinaagi sa ilang Kamp Wapak.
Ang Kamp Wapak, matud ni PYDO Head Ms. Allyn Penalosa, usa ka encampment sa mga batan-on sa tibuok probinsiya kinsa maoy punting sa pangagamhanan ni Gobernador Bambi Emano nga mahatagan sa kagahum ug higayon nga mapakita ang ilang nagkadaiyang talento ug abilidad isip mga lig-ong lider sa umalabot.
Tema sa maong camp: "Kabatan-onang Misamisnon: Lig-on, Ligdong ug Malambuon", mahitabo karung Agosto 11-12, 2018, Sabado ug Domingo sa University of Science and Technology of (Southern) Philippines (USTP) Campus sa lungsod sa Claveria.
Dugang ni Ms. Penalosa, kini nga kalihukan personal nga gitahas kaniya sa amahan sa lalawigan sa tumong nga matapok ang mga kabatan-onan sa Probinsya ug mahatagan sila ug usa ka mahinungdanong kalihukan sa paglaum nga mahatagan sila sa hustong kahibalo ug tukma nga mamahimong epektibong pangulo sa umalabot.
Gilauman usab nga pinaagi sa maong duha ka adlaw nga encampment, makabaton ug dugang kaikag ang mga batan-on sa pagpakiglambigit sa mga inisyatibong makahatag ug bili sa ilang pagka-tawo.
Daku usab kini nga kahigayonan nga madiskobre ang ilang mga talent ug kakayanon sa paghimo sa ilang mga tahas isip future leaders nga makaabag sa pagpangalagad sa katawhan sa tibuok lalawigan.
Ang maong kalihukan alayon sa pagsilibrar sa Linggo ng Kabataan o International Youth Day kung diin nakatakda sa ika-12 sa Agosto.
[/et_pb_text][/et_pb_column][/et_pb_row][/et_pb_section]