KANHI AFP 58IB COMMANDING OFFICER DERILO, GIPASIDUNGGAN NI GOB. EMANO
Posted: February 21, 2020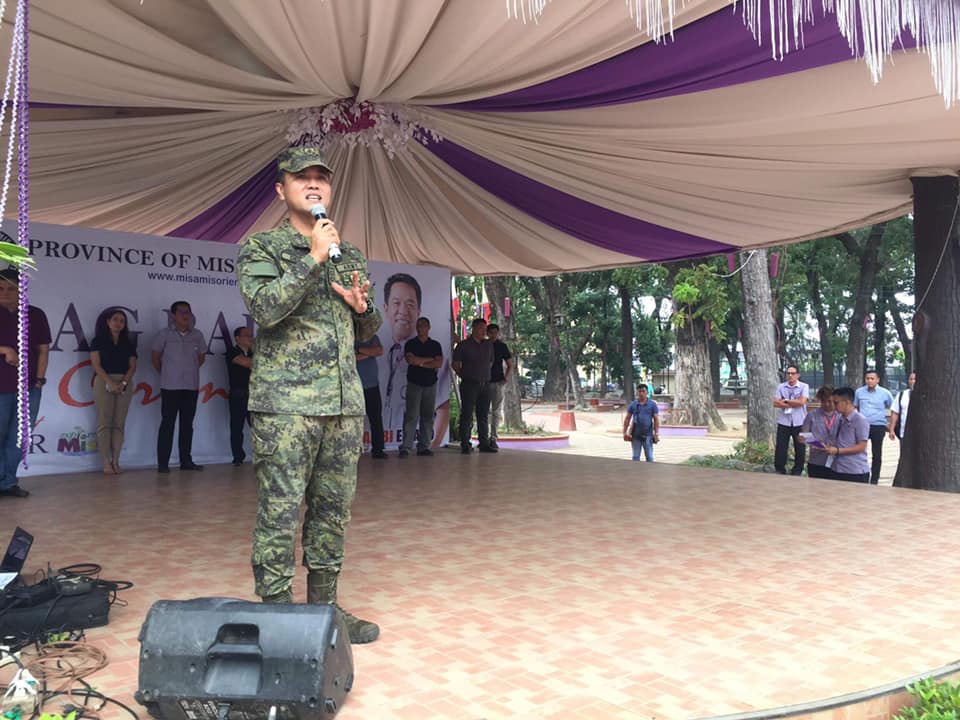 GIPASIDUNGGAN sa pangagamhanang lokal sa Misamis Oriental, ubos sa pamunuan ni Gobernador Bambi Emano, si outgoing Armed Forces of the Philippines 58 Infantry Battalion commanding officer Lt. Col. Roy Anthony Derilo, Lunes, Pebrero 17, 2020.
Kini, tungod sa iyang gipaambit nga lihok alang sa pag-mentinar sa kahusay ug kalinaw sa kabukiran. Matud ni Gobernador Emano, dili tiaw ang kontribusyon ni Lt. Col. Derilo nga mapalig-on ang pwersa sa kasundalohan batok sa bisan unsang matang sa insurhensiya sa kabukiran.
Sa iyang katapusang pamulong isip Army commanding officer, mapasalamaton si Lt. Col. Derilo kang Gobernador Emano ug sa katawhan sa Misamis Oriental sa higayon ug pagsalig nga gihatag kaniya. Dili matud pa niya malimtan ang kaayo sa amahan sa lalawigan ug suporta niini ngadto sa kasundalohan aron lamang makab-ot ang tiunay nga kahusay ug kalinaw.
"I'm just so blessed na dito ako na assign na area nga grabe ka supportive ang gobernador. Kita pud naku ang zeal sa nga mayors nga ga reach out gyud sila, though delikado gyud ang area. That's why, I have to push forward nga kanang peaceful gyud ang area og gaka buhat ang dugay na nilang gusto buhaton," sulti pa Lt. Col. Derilo, kinsa hulipan ni Lt. Col. Ricky Canatoy. .
"Patriot, one of those we can describe you (LTC. Derilo). But what I like with Lt. Col. Derilo, he tries to explain to all of us what has been happening, he has been transparent and I think that is the one of the reasons why MODHA (Misamis Oriental Department Heads Association) likes him and likes to work with him because he has been transparent as you can see, he does not want war, he does not want to spill blood, he does not want to waste life, he wants a peaceful Misamis oriental," mensahe ni Gobernador Bambi kang Derilo.
Mikabat sa duha ka tuig nga nagsilbing commanding officer sa 58IB si Lt. Col. Derilo, nga karon ma-assign na sa 4th Infantry Division sa Camp Evangelista, Patag. Matud ni Gobernador Bambi Emano, wala kini sukad makadungog og pang-abuso sa gahum samtang namunuan si Lt. Col. Derilo.