KAPITOLYO, PASADO SA DILG GOOD FINANCIAL HOUSEKEEPING
Posted: February 6, 2019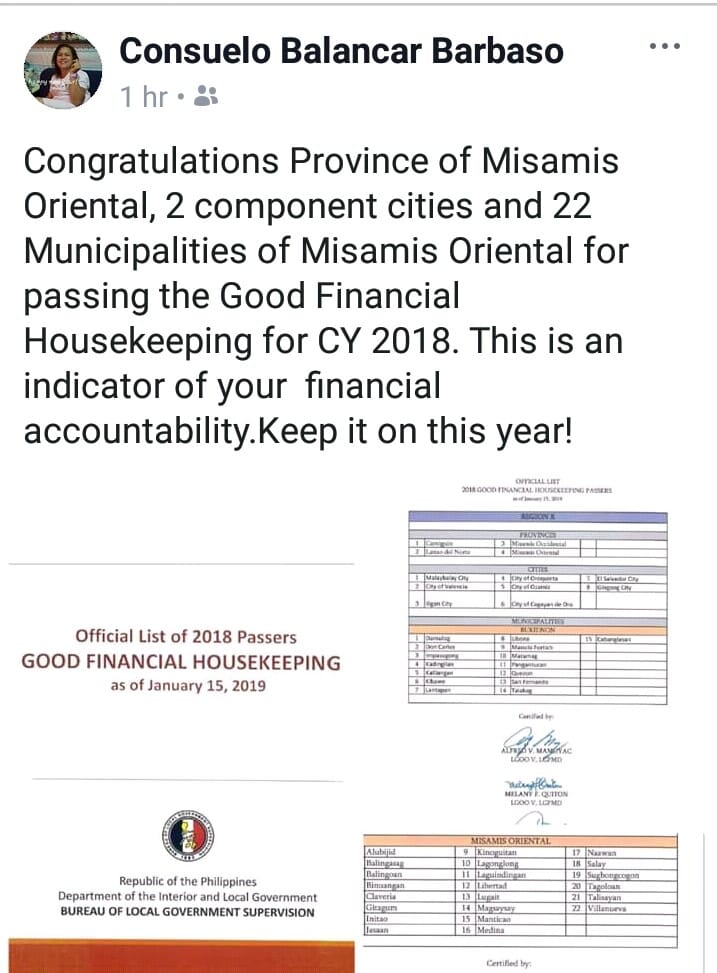 Sa pipila na ka higayon nahimong awardee ang Misamis Oriental ubos sa pamunuan ni Gobernador Bambi Emano tungod sa katarong ug kasihag sa iyang pagpangalagad sa katawhan.
Ning bag-o, laing pasidungog na usab ang nadawatan sa kapitolyo gikan sa Department of Interior and Local Government (DILG) Bureau of Local Government Supervision, pinaagi niining gitawag Good Financial Housekeeping kon walay pag-abusar sa paggamit sa kwarta sa kaban sa katawhan.
Gawas sa lungsod sa Opol, lakip sa maong paisdungog ang 22 ka lungsod ug duha ka dakbayan sa Misamis Oriental – El Salvador ug Gingoog – alang sa tuig 2018.
Ang maong pasidungog ginahatag sa DILG matag tuig ngadto sa lokal nga pangagamhanan kon mapamatud-an nga wala gisayangan ug giwaldas sa walay hinungdan ang nakolektang buwis gikan sa katawhan.
Dili tiaw ang paningkamot ni Gobernador Bambi Emano nga maluwas ang kapitolyo gikan sa pagkalubong niini sa utang niadtong tuig 2013.
Karon, nagbunga pa kini sa pasidungog, hilabina nalakip na sa mga bilyonaryong probinsya ang Misamis Oriental karong panahona.