KASO SA DENGUE SA MISOR PADAYON SA PAG-KUNHOD
Posted: August 3, 2020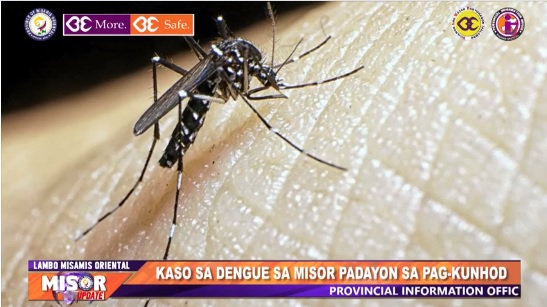 DAKO ANG PAGKUNHOD SA KASO SA DENGUE SA MISAMIS ORIENTAL SUGOD SA BULAN SA ENERO PADULONG BULAN SA HULYO NING TUIG 2020.
Gikan sa 1,900 ka kaso sa dengue sa miaging tuig, mitala na lamang sa ka kaso ang Provincial Health Office (PHO) sulod sa unom ka bulan.
Matud ni MR. ALDO OBENZA, KINSA MAOY DENGUE COORDINATOR sa lalawigan nga bisan paman nga ang gitutukan karon sa PHO mao ang pagpakigbatok sa Corona Virus Disease (Covid-19) apan wala gipasagdan sa buhatan ang kampanya batok Dengue tungod kay ang problema sa dengue tibuok tuig na ug dili na susama kaniadto nga seasonal.
"Ang dengue karon is irregardless sa panahon naa gyud siya. Moingon ka nga kung sa una pa nga mga panahon ang dengue mo gawas ra kung ting-ulan but then due to climate change ang dengue karon bisag summer naa jud siya." pasabot ni Obenza.
KALABOT SA IHAP SA DUHA KA SIYUDAD SA LALAWIGAN ANG GINGOOG ANG ADUNAY PINAKA TAAS NGA KASO NGA MOKABAT SA 176 KA KASO KON (19.5%) SAMTANG ANG SIYUDAD SA EL SALVADOR NAGTALA OG 101 KA KASO (11.2%).
SAMTANG SA MATAG MUNISIPYO NATALA SA LUNGSOD SA OPOL ANG 46 KA KASO (5.1%) UG BINUANGAN NGA ADUNAY 5 (0.6%) KA KASO KINSA MAOY PINAKA GAMAY NGA KASO SA DENGUE SA TIBUOK PROBINSYA.
Padayon nga gipanghingusgan sa PHO ang kampanya batok sa dengue ug pabilin gipahimangnuan ang katawhan sa tibuok probinsya sa kanunay nga pagsunod sa mga lakang nga gimando sa DOH sama sa search and destroy, self-protection, seek immediate consultation and say yes to mosquito fogging operation.