KITA SA KOMPANYA'S KURYENTE, PAKSI-AN PARA'S KABARANGGAYAN
Posted: November 14, 2019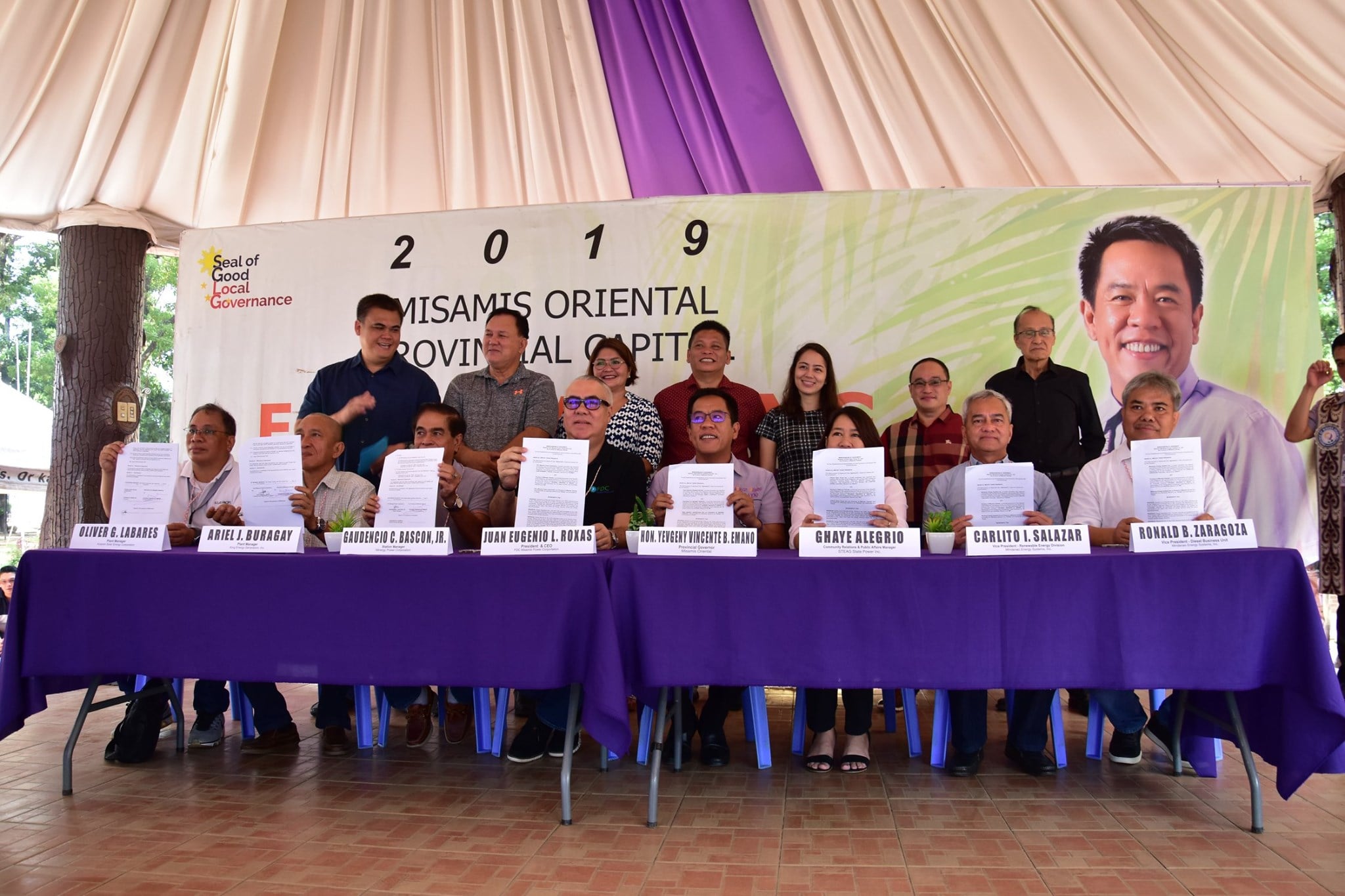 NAGPINIRMAHAY na og memorandum of agreement ang pangagamhanang lokal sa Misamis Oriental, pinaagi ni Gobernador Bambi Emano, ug mga power generating companies sa lalawigan niadtong Nobyembre 11, 2019, atol sa pagpakayab sa nasudnong bandila sa kapitolyo.
Tungod niini, sa kinatibuk-ang kinitaan sa power generation matag bulan, dunay 0.01 centavo per kilowatt hour nga bahin ang kabaranggayan ug pangagamhanang probinsiya alang sa pagpatuman sa nagkadaiyang proyekto dinhi sa lalawigan.
Lakip sa mipirma sa nasangpit nga kasabotan ang FDC kon Filinvest Development Corporation, pinaagi ni Mr. Juan Eugenio Roxas, ang president ug CEO; Kirahon Solar Energy Corporation, pinaagi ni Mr. Oliver Labares, ang project manager; Minergy Power Corporation, pinaagi ni Mr. Gaudencio Bascon, Jr.; Mindanao Energy System Inc., pinaagi ni Mr. Carlito Salazar, vice president for renewable energy division ug Ronald Zaragosa, vice president for MES Diesel Business Unit; STEAG community relations and public affairs manager Ms. Ghaye Alegrio; ug Mr. Ariel Buragay, ang plant manager sa King Energy Generation Inc.
Unod sa maong memorandum base na usab sa Department of Energy ER 1-94 pursuant to section 5 of Republic Act No. 7638, kung diin gimanduan ang tanang power plant owners nga motunol sa bahin sa ilang kinitaan ngadto sa local government unit sa lugar kung diin sila nahimutang.
"Now, ang naka nindot ani, directly na nga maka-open og account ang province then wi'll send it to DOE dayun directly na ma-deposit ang amount sa province nga account. So in this case, direkta siya sa mga municipalities, province dali na ma implement nila ang project. So, mao na ang naka nindot karon, unlike before that they have to go to Manila…submit proposals og daghan pang proseso…medyo musibog ang mga LGU's pag apply sa project," malipayong pagpasabot ni Mr. Oliver Labares sa Kirahon Solar Energy Corp.
Parte sa 0.01 centavo per kilowatt hour nga bahin sa probinsiya gikan sa kinatibuk-ang kinitaan sa power generation sa Misamis Oriental padulong ngadto sa pag-develop sa Cebu Pacific flight 387 Shrine sa lungsod sa Claveria, isa sa mga tourist sites sa lalawigan nga himiuong Agriculture Tourism Complex, isa sa mga landmark projects ni Gobernador Bambi Emano nga mahimutang sa Claveria-Gingoog Provincial Road sa dili pa ma-expire ang iyang ikatulong termino.