Misamis Oriental hingpit ng gipaubos sa general community quarantine
Posted: April 23, 2020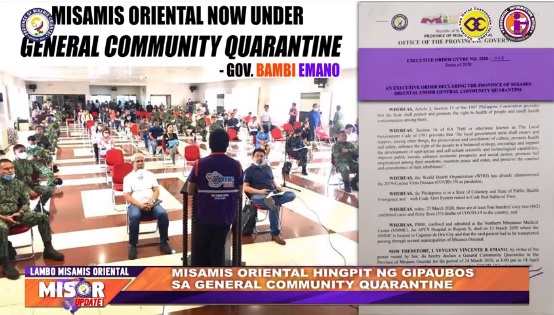 Human sa makuti nga pagtuon ug pagrebisa, hingpit ng gipirmahan ni gobernador bambi emano ang maong kamanduan. Karong adlawa, gipaubos na sa general community quarantine ang lalawigan sa misamis oriental.
Pinasikad sa Executive Order GYVBE no. 2020-08 pinirmahan ni Gobernador Bambi Emano, hingpit nang gipaubos ang tibuok Misamis Oriental sa general community quarantine.
Ang maong deklarasyon gi-anunsyo atol sa multi-agency convergence & Coordination Meeting nga gitambongan sa mga sakop sa PNP,AFP, BFP, municipal mayors, MDRRMO, DILG ug DOH.
Ipatuman ang hingpit nga implementasyon niini karong alas otso sa gabie marso 24 hangtud sa Abril katorse sa alas dose ang takna sa sayung kabuntagon.
Nalatid sa maong kamanduan nga dili na tugutan nga makasulod diha sa entry points sa Lugait ug Magsaysay ang mga tawo nga nagikan sa laing probinsya ug nasud gawas kung kini magdeliver ug pagkaon, mga utanon, krudo o gas, medesina, pagkaon sa hayop, medical supplies, medical equipment ug construction supplies.
Ang mga drivers nga gitahasang mudeliver niini gikinahanglan nga makapresentar ug certification gikan sa ilang barangay ug sa tagiya sa kompanya
Ang tanang pasahero ug motorista kinahanglan makapakita ug identification card nga dunay address, pagpamatuod nga residente sila sa misamis oriental.
Gitugtan rasab sa gobernador ang tanang interbarangay, intermunicipality ug inter city transactions gikan sa gingoog, el salvador ug syudad sa cagayan de oro.
Ang tanang klase sa pribado ug pampublikong tulunghaan padayong suspendido hangtud abril katorse. Padayong hingusgan ang social distancing sa tanang panahon labi na sa mga public utility vehicles sama sa jeep ug motorela samtang gidili ang bisan unsang matang sa tapok2. Ipadayon gihapon ang skeletal workforce sa matag departamento ug bisan na sa pribadong mga kompanya.
Samtang sirado hangtud abril katorse ang tanang malls sa lalawigan gawas sa mga supermarkets ug parmasya. Ang mga kananan mamahimong mag operate basta muhimo lang ug pre emptive measures.
Nalatid sa executive order nga ang northen mindanao medical center kun nmmc lang ang magsilbing center sa covid 19 nga mga pasyente. Ang mga provincial hospitals kinajanglan dunay holding area alang sa nakitaan ug simtomas sa maong virus.
Suspendido sab sa.pagkakaron ang dalaw sa mga piniriso diha sa misamis oriental.provincial jail kun mopj
Ipatuman gihapon ang curfew sa tanang edad sugod alas otso sa gabie hangtud alas singko sa buntag
Monitoron sa department of trade and indutry kadtong nanago ug namaligya sa mga basic commodities labi na ang mga alcohol ug mask nga labing gikinahanglan karon.
Ang masakpan nga nagpakatap ug fake news sa social media o print mamahimong kasuhan
Kahinumduman nga nalangan ang pagdeklarar ug general community guarantine tungod sa makuti nga pagtuon sa technical working group aron walay malimtan nga mga mahinungdanong butang.