MISAMIS ORIENTAL NUTRITION COUNCIL COMMENDED ANEW BY REJIANN AMMOR R. MAYGAY/PIO
Posted: December 3, 2021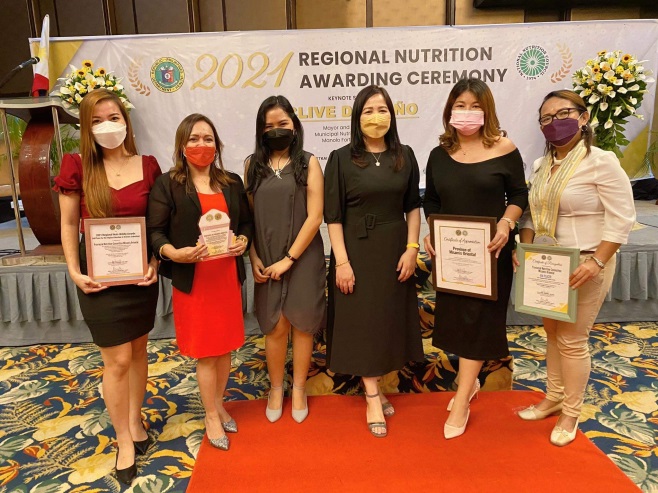 FOR the third straight year since 2018, the Misamis Oriental Provincial Nutrition Council is awarded by the National Nutrition Council-Region 10 for implementing nutrition programs leading to the decrease of stunting prevalence to age 0-59-month old or 0-5-year-old children.
Marites Gomez, head, Provincial Health Office-Nutrition Division, said the Regional Nutrition Council also recognized 16 municipalities in Misamis Oriental—Alubijid, Balingoan, Binuangan, Claveria, Gitagum, Initao, Lagonglong, Libertad, Lugait, Magsaysay, Medina, Opol, Salay, Sugbongcogon, Tagoloan and Villanueva—which are experiencing downward trend of stunting prevalence for the last three years.
Gomez attributed the successful implementation of the programs of her office to Governor Bambi Emano's constant reminder to regularly coordinate with Barangay Nutrition Scholars in 424 villages in Misamis Oriental, and the Municipal and City Nutrition Action Officers (MNAOs and CNAOs). As a result, more parents are now conscious about the health and nutritional dietary of their children.
In 2020, records show 3,541 stunted children, lower than that in 2019 with 4,308 children and 5,541 children in 2018. According to Gomez, this was the basis of the award.
In 2021, records show a constant decrease of stunted children to 3.7 percent (2,539) as compared to 6 percent in 2019 (4,308) and 5 percent (3,541) in 2020. Also, the number of severely stunted children decreased to 478 (0.7 percent) from 849 (1.2 percent) in 2019 and 887 (1.3 percent) in 2020.
Gomez gladly informed the number of tall children grows to 1,353 (2.0 percent) in 2021 from 1,143 (1.6 percent) in 2019.
She said Governor Emano is serious about solving, if not, minimize the number of malnourished children, who are the hope of their generation and the generations to come.
In urban and rural villages in Misamis Oriental, Gomez also said children are fed with dietary supplementation like rice, monggo and sesame, food with high nutritional value, in addition to the oral drops such as Vitamin C plus Zinc. They also highly recommend breastfeeding to lactating mothers.
Gomez said most parents are now into backyard gardening as their curiosity is heightened by the strong advocacy of the Provincial Nutrition Committee to feed their children with nutritious food like fruits and vegetables.