MISAMISNON NGA NANGAYO OG TABANG SA PSWD MIAPELA NGA ILIBKAS ANG TRO
Posted: July 10, 2020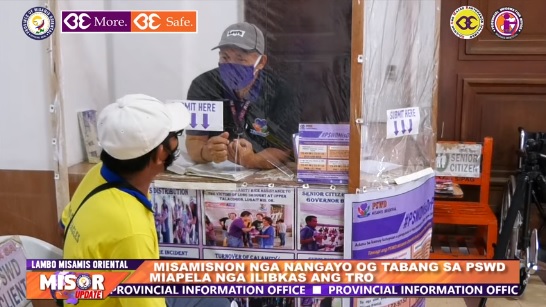 UBAY-UBAY ka mga Misamisnon ang midangop aron unta mangayo og tabang sa buhatan sa Provincial Social Welfare and Development (PSWD).
Kini aron mangayo og tabang sama sa riseta sa tambal, dugo og uban pa apan unang higayon sa kasaysayan sa pamunoan ni Gobernador Bambi Emano nga nabalibaran ang katawhang kabus tungod kay kasamtangan pa nga epektibo ang temporary restraining order (TRO) nga gipagawas sa korte pagpugong sa implementasyon sa 2020 annual budget.
Si Chrisologo Atasan Saraos taga Barangay Natumolan, lungsod sa Tagoloan, Misamis Oriental wala gayud masayod sa gidangatan karon sa probinsya ug yano lang intawon nga nagpakatabang sa PSWD.
Nanghinaut kini nga matabangan sa buhatan alang sa risetang palitonon alang sa iyang asawa nga anaa karon sa Northern Mindanao Medical Center (NMMC) apan igo nalang gayud siya giabisohan nga mag adto usa sa ilang Municipal Social Welfare and Development (MSWD) o ba kaha sa Regional Office sa Department of Social Welfare and Development (DSWD).
Gibati kini og kadismaya hinungdan ug gipaabot niini nga ang PSWD lang unta ang doul sa nasangpit nga tambalanan hinungdan maoy iyang gidoulan ug maglisod na sa pagbiyahe kay susamang oras ipaubos na sa CT scan ang iyang kapikas.
"Hunongon na unta ng pagpapugong sa mga budget walaon nalang ng bulok sa pulitika na ingon ini tungod anang pamulitika apan ang ilang gi huna-huna para dili makatabang si Governor sa mga tao" sulti ni Saraos.
Samtang sa iyang bahin ni Janice M. Daamo taga lungsod sa Balingasag ning lalawigan midangop gihapon sa buhatan aron magpa tabang apan na balibaran og susama ni Saraos giabisohan nga didto usa mangayo sa tabang sa MSWD ug DSWD.
"Gapa tabang jud me sa riseta tambal sa akong anak sa chemo gaka avail man mi ana permi karon gi hold man gud sa ang tabang kang Governor Bambi Emano. Karon lang jud me wala naka avail. Ang ilang ingon sa akoa muduol nalang daw ko sa MSWD sa among munisipyo. Dili nalang unta nila I-hold ang services nga ginatabang nila sa amoa sama naku naka avail ko sa mga tambal nga gina tabang ni Governor Bambi Emano especially sa riseta sa akong anak daku kaayo siya og tabang. Hangyo lang unta dili nila I hold Kay daghan jud kaayo me maka-avail sa mga services nga ilang gi offer sa amoa labi na gayud sa mga medicines nga gina duol kang Gov Bambi og ginahatag pud niya sa amoa" sulti ni Daamo.
Labaw pang nasakit si Governor Bambi sa kalisod paglihok nga giatubang karon sa kapitolyo probinsyal ug sa daghang kabus nga mga nabalibaran apan subling gipaabot sa amahan sa lalawigan nga maningkamot ang iyang pamunuan nga mapadali ang ilang gidusong motion nga mahangyo malibkas ang TRO aron mabalik ang serbisyo nga alang sa katawhan sa lalawigan.