MISOR, NO HOME-QUARANTINE PASS, NO TRAVEL-PASS NA
Posted: April 23, 2020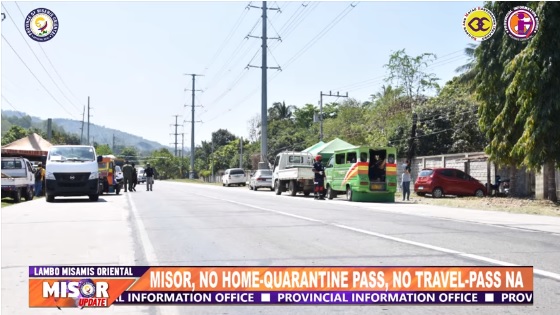 Kung kaniadto sayon lang ang pagsulod ug paggawas sa katawhan ug salakyan dinhi sa Misamis Oriental sa matag karon ug unya, karon lahi na, gikinahanglan na maglukat og Home Quarantine Pass ug Road/Travel Pass ang mga motorista.
Kini, alayon gihapon sa paningkamot ni Gov. Bambi Emano ug sa task force covid-19 nga dili gayud kita malutsan ug matakboyan sa coronavirus disease 2019.
Sa pinakaulahing kamanduan nga gipakanaug ni Gov. Emano, Executive Order GYVBE No. 2020-115, kinahanglan na ipatuman ang No Home Quarantine Pass o No Road/Travel Pass No Travel Policy sa tibuok Misamis Oriental. Buot ipasabot dili makagawas-sulod ang katawhan sa ilang lugar o balay kung walay home quarantine pass. Kinahanglan molukat usab sa road/travel pass ang mga salakyan kung mosulod-gawas sa ilang munisipyo ug sa lalawigan, hilabina sa mga checkpoints.
Kadtong dunay gusto paliton, pagkaon, groceries ug tambal; o dunay lihukonon sa bangko ug uban pang financial establishments, kinahanglan molukat sa home quarantine pass. Didto kini lukaton sa barangay hain sila nanimuyo. Magpakita lang sa Identification Card (ID) nga adunay nakabutang nga address.
Ang Road/Travel Pass alang sa mga nagpuyo sa kong asa nga munisipyo o dakbayan sa Misamis Oriental apan nagtrabaho o adunay transact business sa dakbayan sa Cagayan de Oro ingon nga gitugot sa section 1, walay labot sa Executive Order GYVBE No. 2020-008-a, Series of 2020 o magdala sa nahisgutang nga requirements sa maong section gawas sa iyang puluy-anan.
Ang road/travel pass nga gikan sa dakbayan o munisipal officer kung asa gikan ang residente o kung asa man nakarehistro kinahanglan magpakita niini kauban sa iyang id o certificate of employment aron dili masita sa checkpoints.