MISS CDO 2019 CINDY OBEÑITA, GIPASALAMATAN NI GOB. BAMBI
Posted: September 18, 2019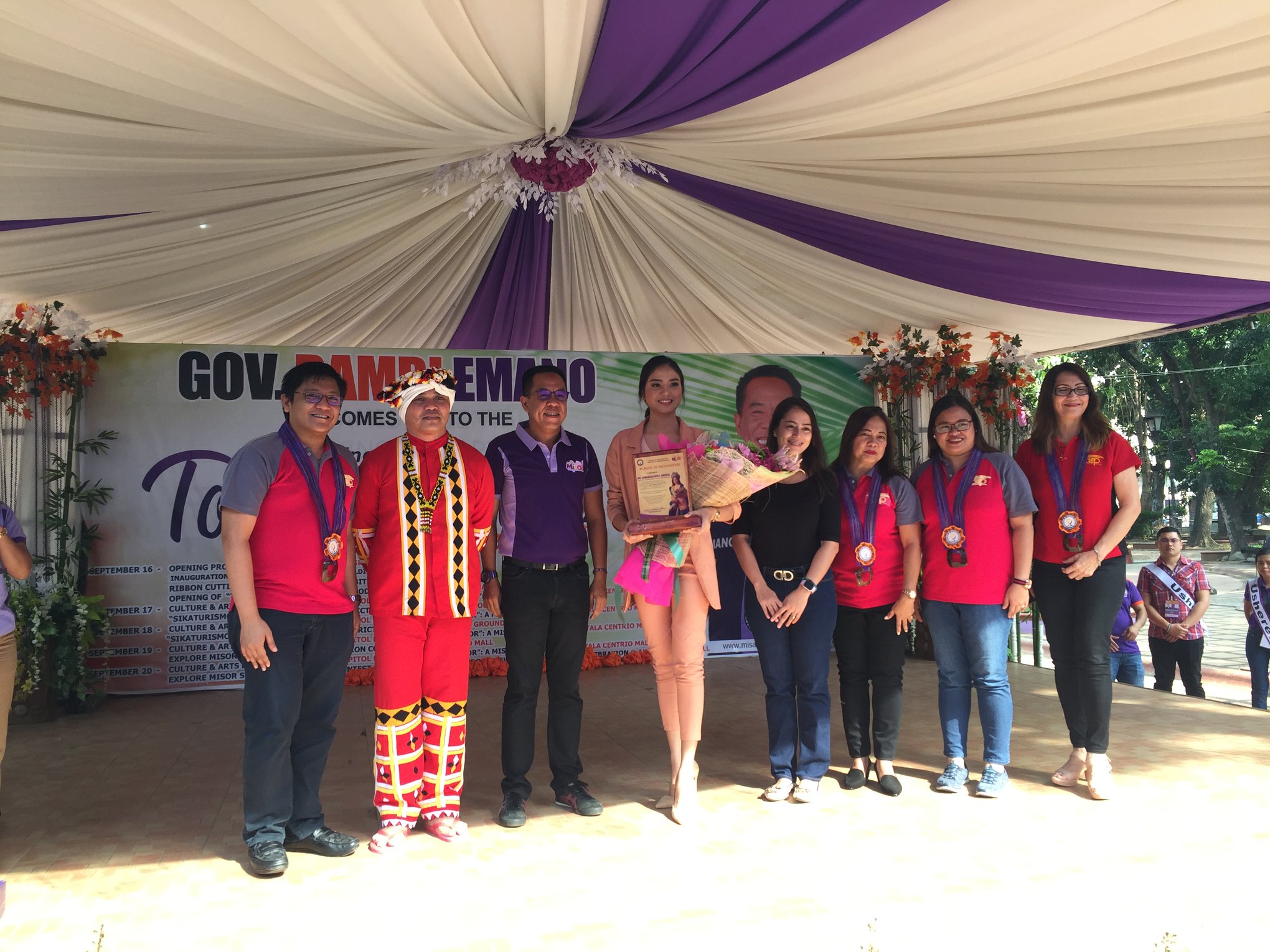 MIDAWAT og pasidungog ug pahalipay si reigning Miss Cagayan de Oro 2019 Cinderella Faye Obeñita gikan sa pangagamhanang lokal sa Misamis Oriental, tungod sa kontribusyon niini sa kalamposan nga pagpahigayon sa tanang kalihukan sa programang turismo ni Gobernador Bambi Emano dinhi sa lalawigan.
Si Gobernador Emano ang mitunol sa Plaque of Recognition ngadto kang Ms. Obeñita atol sa pagpakayab sa nasudnong bandila niadtong Lunes, Setyembre 16, 2019, sa hawanan sa kapitolyo, kung diin na-surprise intawon ang dalaga tungod kay wala kini makatuo. Matud sa beauty queen, gihimo lamang niya ang iyang trabaho sa kapitolyo isip pangulo sa events and planning division sa Provincial Tourism Department.
Saad sa gobernador, gawas kang Ms. Obeñita, bisan kinsa nga buot mosalmot sa nasudnong indigay—atleta man o beauty queen—mahimong moduol kaniya tungod kay andam kini mosuporta kanila, hilabina kon magdala pa gayud kini og dakung dungog sa Misamis Oriental ug Cagayan de Oro.
Samtang, wala matud pa nabalaka sa mga bashing sa social media si Ms. Obeñita human kini ma-koronahan isip Miss Cagayan de Oro 2019.
Sa paghinabi sa Lambo, Misamis Oriental kay Cindy, matud sa dalaga, dili na angayan pang tumpangan ang mga pagsaway, pagbatikos ug uban pa batok kaniya, focus lang kono siya sa iyang mga bulohaton isip reigning Ms. CDO 2019, ug isip empleyado sa Provincial Tourism Department. Adbokasiya ni Cindy mao ang cervical cancer awareness and prevention, kung diin ang iyang organisasyon nagatunol sa libreng cervical cancer ug breast cancer tests.
Gipaabot usab ni Cindy iyang matahom nga pasalamat sa walay hunong nga suporta sa katawhan hilabina sa mga empleyado sa kapitolyo nga nakatabang sa iyang kadaugan pinaagi sa mga likes ug shares sa social media ug ang pagboto pabor kaniya pinaagi sa text.
Mapasalamaton usab ang beauty queen ngadto kang Gobernador Emano ug Provincial Tourism Officer Atty. Jeffrey Saclot sa ilang pasensiya ug pagsabot sukad pa kini misalmot sa Search for Miss Cagayan de Oro niadtong Agosto 2019.
Hinuon, matud ni Gobernador Bambi Emano, dakung puntos ang kadaugan ni Ms. Obeñita sa pagpalawig sa programang turismo dinhi sa Misamis Oriental, hilabina dili lamang molupyo sa lalawigan ang nakatagamtam sa maayong epekto sa pagpalambo sa industriya sa turismo, kung dili lakip na ang katawhan sa dakbayan sa Cagayan de Oro.