MOPJ INMATES EMOSYONAL SA DIHANG GI LUSAD ANG E-DALAW
Posted: April 23, 2020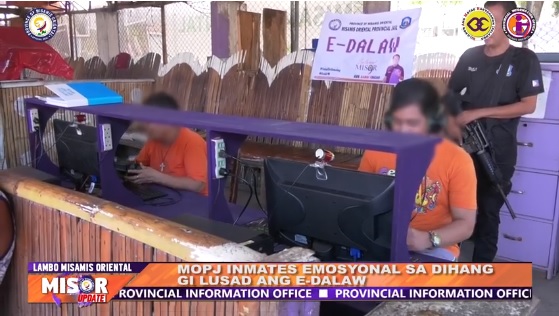 PIPILA pa lang ka adlaw sa wala pa gipaubos ni Gov. Bambi Emano ang tibuok lalawigan sa Misamis Oriental sa general community quarantine tungod sa hulga sa coronavirus disease 2019 (COVID-19).
Una nang naka-lockdown ang Misamis Oriental Provincial Jail and Rehabilitation Center (MOPJ), butang nga nagresulta sa grabeng kamingaw sa mga binilanggo sa ilang mga minahal sa kinabuhi, human gidili ang ilang pagbisita sulod sa pasilidad.
Mao na lamang ang kalipay sa mga inmates sa dihang gilusad ni Gov. Emano ang electronic-dalaw kon e-dalaw sulod sa MOPJ, kung diin emosyonal ang mga binilanggo human nila masugdan ang paggamit sa online conference kauban ang ilang ginikanan, igsuon, asawa ug mga anak.
Kinsa nakahinabi ang iyang minahal sa kinabuhi nga atua pa sa Surigao del Norte gamit ang computer sets nga gidonar sa Department of Information and Communications Technology (DICT).
Gani, sa dihang hikabsan sa kinabuhi ang amahan ni Nene, wala gayud siya makatambong sa lubong o bisan makita lamang ang haya sa amahan. Maoy panghinaut ni Nene nga unta magpadayon gayud kini nga sistema nga halad ni Gov. Emano ngadto kanila nga mga binilanggo bisan pa man og mahuman na kining krisis nga dala sa COVID-19.
Mapasalamaton pa si Nene sa inisyatiba ni Gov. Emano sa pagpangita'g alternatibo aron ilang mahinabi ug makumusta ang ilang tagsa-tagsa ka pamilya bisan tuod dili nila personal nga mahawiran ang kamot ug mahagkan ang ilang minahal sa kinabuhi.
Alang kang Nene, nabati gyud sa mga inmates ang gugma ni Gov. Emano ngadto kanila tungod sa gihatag nga oportunidad ug nabati nila nga bililhon sila sa kasing-kasing sa gobernador luyo sa rehas.
Ang kamingaw sa mga inmates ug sa ilang mga pamilya nasabtan gayud sa Gobernador busa namugna kining E-DALAW katimbayayong ang Smart Communications ug Department of Information and Communications Technology.
Aron bisan sa gamay nga pamaagi mahatag ni Gobernador Bambi Emano ang usa sa mga panginahanglanon sa mga persons deprived of liberty hilabina ning panahon sa krisis nga gidili ang panagtapok, panagkitaay ug physical contact sa tawo.