NAAWAN'S BET IS MISS KUYAMIS 2022 By Rejiann Ammor R. Maygay
Posted: January 27, 2022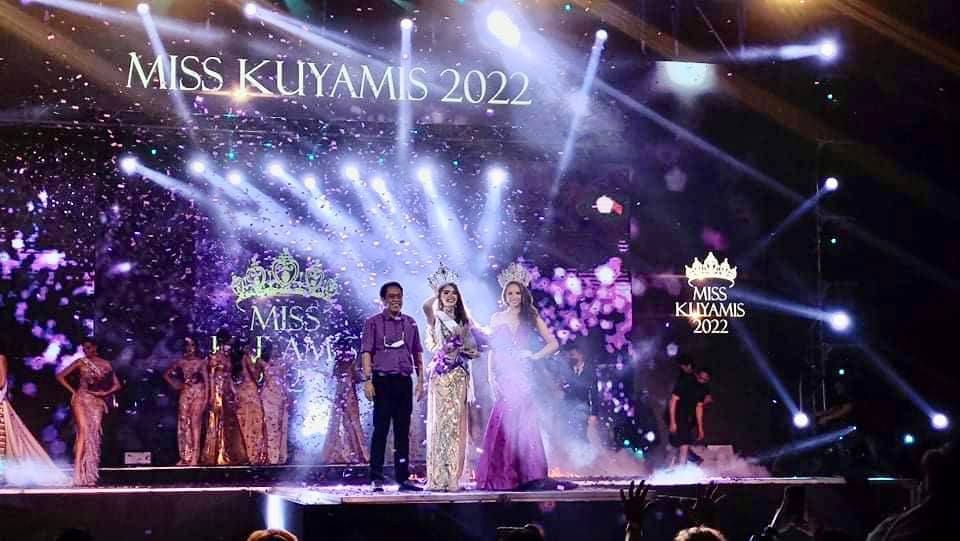 SHE displayed prettiness and broad mind, Naawan's pride Annabelle Mae McDonnell, is crowned Miss Kuyamis 2022 in a dome-cracking crowd of spectators at the Gingoog City Gymnasium in Gingoog City, Misamis Oriental, on January 13, 2022.
The pure Filipina beauty is the new Miss Kuyamis and Tourism Ambassadress of Misamis Oriental. McDonnell is scheduled for the Miss Universe pageant screening in Manila this February 2022, according to Governor Bambi Emano.
The 22-year-old lady had convinced juries in the thrilling Top-5 final-spots question: "As Miss Kuyamis and Tourism Ambassadress of Misamis Oriental, what is your message to those working in the Tourism industry adversely affected by the CoVid-19 pandemic?" And, her respond was: "Nationally and internationally, we have been faced with so many challenges from the moral accountability of vaccine inequity to the inequalities across our healthcare. However, tourism in Misamis Oriental has always been inclusive and that is what is making Misamis Oriental's industry a crowning glory for the province. And I would congratulate the Tourism industry for you have reassured job stability and morale in spite of the pandemic, because your Miss Kuyamis 2022 knows that inclusivity and knowing that it's more than the scenic beaches, but it's about the eyes of our farmers and the faces of our indigenous communities that what's important. And I believe that I am her. Thank you."
Aside from pride, McDonnell brought home sash, P100,000 cash, with minor awards, Best in Closed-door panel interview and Corporate Awards, Miss Amaya View and Miss Pearl Body Touch Facial Center. She also received P50,000 worth of dental services; P20,000 worth of salon services; P10,000 worth of hotel accommodation; P100,000 worth of services from Aesthetic Clinic; and a chance to represent Misamis Oriental to the national pageantry.
Top 5 finalists were McDonnell, Jimema Tempra of Jasaan (1st- runner up; Best in Swimsuit), Vanessa Dulay of Manticao (2nd- runner up), Nice Lampad of Sugbongcogon (3rd- runner up), and Natazha Vea Bautista of Villanueva (4th- runner up), who bagged Best in Kuyamis-Inspired Cocktail Attire.
Miss Photogenic was Shirly York Galupo of Gingoog City and Miss Congeniality was Roshana May Bardelao of Magsaysay.
Corporate Awardees also include Kim Jazryl Acosta of Lugait as Miss Globe and Ma. Reshia Mae Go of Lagonglong as Miss Le Rouge Salon & Spa.
Girls and members of the LGBTQ almost had sore throats cheering to celebrity hosts Marco Gumabao and Miss Kuyamis 2019 Chella Grace Falconer.
Facebook.com flooded by followers with 200,000 views.
Kuyamis Festival, existed nine years ago in 2014, is the brainchild of Governor Bambi Emano dedicated to the Black Nazarene.