NOTICE OF PUBLIC HEARING
Posted: November 12, 2019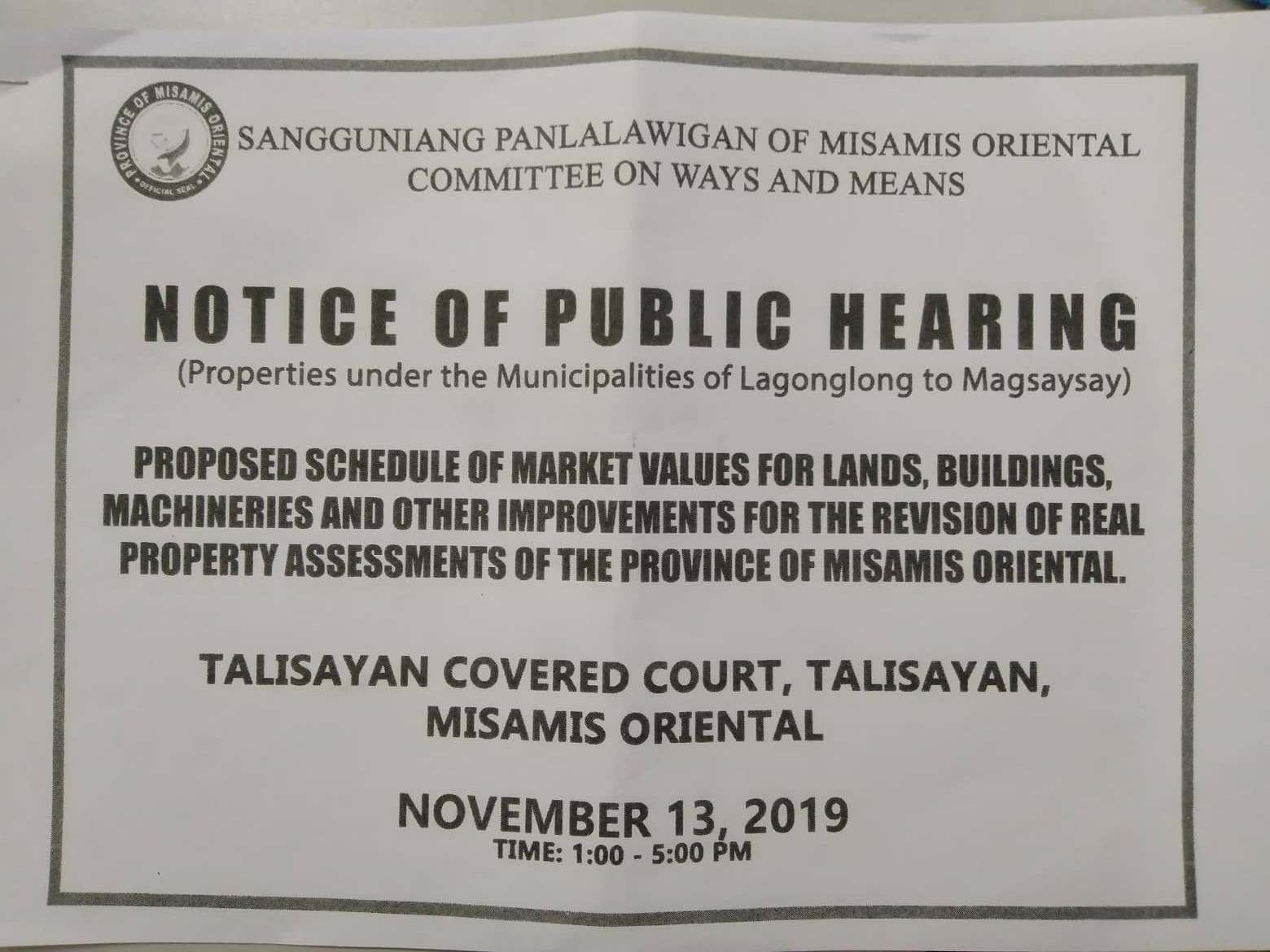 Sangguniang Panlalawigan sa Misamis Oriental Committee on Ways and Means Hon. Dexter Yasay kaabag ang Provincial Assessors Office ug Municipal Assessors Offices sa matag munisipyo gipanghingusgan ang iskedyul sa pagpahigayon ug Public Hearings mahitungod na sa hisgutanan sa Market Values for Lands, Buildings, Machineries, ug uban pang improvements alang sa Revision of Real Property Assessments dinhi sa lalawigan sa Misamis Oriental.
Mao kini ang na-aprobahan nga iskedyul:
1. Nov. 13, 2019 @ 1:00-5:00 pm – Talisayan Covered Court, Talisayan Mis. Or. (Open-to-all Municipalities of Lagonglong to Magsaysay)
2. Nov. 15, 2019 @ 1:00-5:00 pm – Jasaan covered court, Jasaan Mis. Or. (Open-to-all Municipalities of Balingasag, Jasaan, Claveria, Villanueva and Tagoloan)
3. Nov. 19, 2019 @ 1:00-5:00 pm- Moresco – I covered court, Laguindingan, Mis or. (Open-to-all Municipalities of Opol to Lugait)
Usa kini ka matahom nga aktibidades aron matagaan ug kahigayonan ang mga katawhan sa lalawigan nga mapaminaw ang ilang mga yangungo ug mga pangutana, ug usa ka higayon usab ni nila aron sa pag-prepara sa ilang mga proposals sa mga kabtangan sa tibuok probinsya.
Giaghat ang tanang Misamisnon nga motambong niini nga kalihukan.
Apil ta mga ka-Lambo!