PRES. DUTERTE BUOT MAGTUKOD UG 'MISORCARES' SA TIBUOK PILIPINAS
Posted: August 6, 2018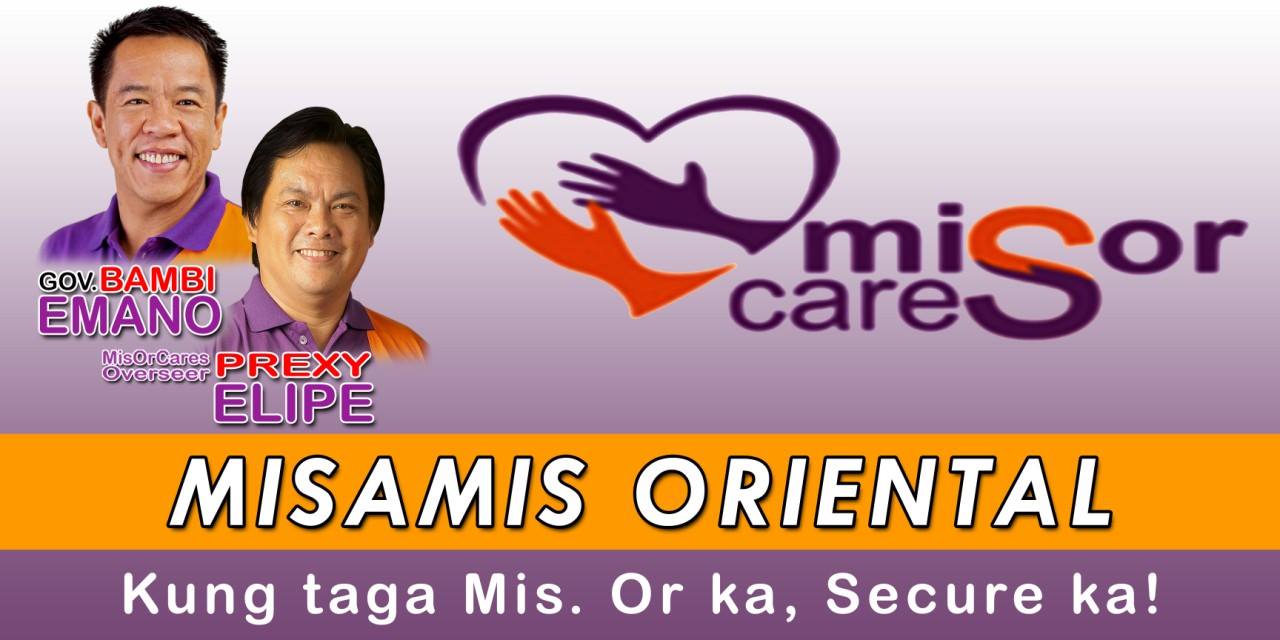 [et_pb_section admin_label="section"][et_pb_row admin_label="row"][et_pb_column type="4_4″][et_pb_text admin_label="Text" background_layout="light" text_orientation="left" use_border_color="off" border_color="#ffffff" border_style="solid"]
GIBATIKOS. GIBUGALBUGALAN. GIBIAY-BIAY. Kini ang na-ani sa pagtukod ni Gobernador Bambi Emano sa Misamis Oriental Care System (MisOrCareS) upat ka tuig na ang milabay. Apan ang gibiay-biayan, gibulgal-bugalan ug gibatikos sa iyang mga kaatbang sa pulitika, maoy buot itukod karon ni Presidente Rodrigo Duterte alang sa benepisyong panglawas ug pangkatilingbanon sa tanang katawhan sa tibuok Pilipinas hilabina kabus.
Kung mahinumduman, sa gihimong State of the Nation Address (SONA) ni Pres. Digong niadtong Lunes, Hulyo 23, gilakbitan niini nga nagplano kini ug tukod ug programa nga haum usab sa serbisyo nga gitunol sa MisOrCareS–libreng tambal, libreng laboratoryo, libreng screening sa dugo, libreng hospitalisasyon, libreng balsama, libreng lungon, haya ug transportasyon.
"Karon, nagtuo ako nga nahatagan na ug hustisya ang ilang pagbiay-biay, pagbatikos ug pagbugal-bugal sa akong mga kaatbang niadtong panahon nga atong gitukod ang MisOrCareS hulip sa traditional nga Philhealth insurance coverage sa atong kaigsuonang kabus sa tibuok lalawigan sa Misamis Oriental," matud ni Gobernador Bambi.
Gani, sa pinakaulahi nga datus nga midangat usab sa buhatan ni Pres. Duterte, mikabat na sa 1,241,631 ka serbisyo ang natunol niini ngadto sa mga nag-ilaid intawon sa kalisod pagpatambal sa ilang kaugalingon ug paglubong sa ilang minatay sa walay hasul.
Mapa-inubsanon pang gipahibalo sa gobernador nga sulod usab sa upat ka tuig, sukad mahimugso ang MisOrCareS, wala sukad maglipay-lipay, magsadya, maggasto ug daku alang sa silibrasyon niini matag tuig, kon dili nagserbisyo lang gihapon sa katawhan.
"Akong dakung pagtahud ug saludo sa atong pamunuan sa MisOrCareS tungod kay imbes nga maglipay-lipay sila, mangaon sa sikat nga restaurant, inay nagpahigayon sa ilang outreach programs matag tuig. Wala nila igsapayan ang ilang hago, bilar ug oras nga unta itagana sa ilang matag pamilya, apan didto nakig-uban sa mga kaigsuonan tang kabus naghatud sa serbisyong panglawas ug pangkatilingbanon," sulti pa sa amahan sa lalawigan.
Gani, niadto lamang Martes, Hulyo 24, gipadayon ang 4th Year Anniversary sa Lagonglong pinaagi sa ilang Outreach Program, kung diin laing 3,192 ka residente sa maong lungsod ang nakabenepisyo sa nagkadaiyang libreng serbisyo ngadto kanila.
[/et_pb_text][/et_pb_column][/et_pb_row][/et_pb_section]