Press Freedom Cup
Posted: May 31, 2019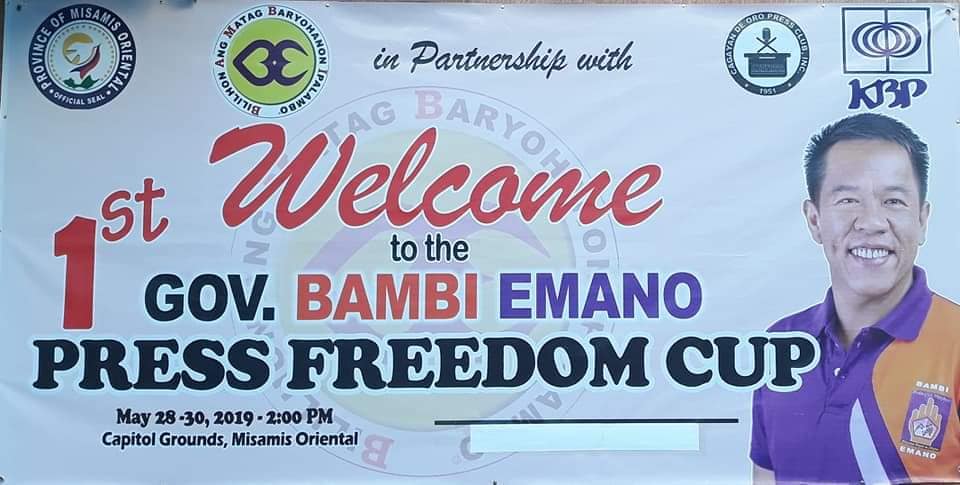 MALAMPUSONG gilusad ang pinakaunang Gov. Bambi Emano Press Freedom Cup pinangunahan sa pangagamhanang probinsyal, alayon sa pag-selebrar sa 37th Press Freedom Week kada-ulahing semana sa Mayo ug karong tuiga adunay Temang: "United Media in the Face of Threats".
Kini nga tulo ka adlaw nga kalihukan pormal nga gibuksan– adlawng Martes-Mayo 28 ning tuig nga aduna pay Ceremonial Toss sa pagpanguna sa COPC Pres.– Ritchie Salloman ug ni BM Soldevilla, ug ang Oath of Sportsmanship para sa tanang mga players langkoban sa nagkalain-laing teams nga mga Govt. Information Officers hilabina mga higala sa prensa sa tri-media.
Ug isip representante ni Gob. Bambi Emano niadtong higayona, mihatag saiyang unodnong mensahe alang sa tanang miduyog si Board Member Kerwin Soldevilla. Sigon pa sa batan-on nga lider nga daku kaayo ug kahimuan ang tanang media practitioners alang sa pangkinatibuk-ang kalambuan sa tibuok lalawigan ug siya nag-pasalamat tungod sa makanunayong suporta nila sa mga kalihukan ubos sa liderato ni Gov. Bambi Emano.
Kagahapong adlawa-Mayo 29, hisayran na nato ang Championship Rounds sa mga Sports/Games dinhi mismo sa Capitol Grounds.
Gilangkoban sa Basketball, Volleyball, Chess, Darts, ug Badminton ang mga paugnat sa kusog nga giduyugan sa nagkalain-laing teams gikan sa nagkalain-laing media outlets.
Niini nga selebrasyon, naghatag gayud ug dakung importansya ang amahan sa lalawigan, Gob. Bambi Emano tungod kay para kaniya way sama ang mga efforts kun serbisyo sa tanang press/media people nga angayan lang maka-sinati ug sama niini nga oportunidad nga mapahingusgan ang kahiusa pinaagi sa paugnat sa kusog.