GENERAL OBJECTIVE:
PESO shall ensure the prompt, timely and efficient delivery of employment service and provision of information on the other DOLE programs.
SPECIFIC OBJECTIVES:
Provide a venue where people could explore simultaneously various employment option and actually seek assistance they prefer;
Serve as referral of information center for the various services and programs of DOLE and other government agencies present in the area;
Provide clients with adequate information on employment and labor market situation in the area; and
Network with other PESOs within the region or employment for job exchange purposes.
FUNCTIONS:
Encourage employers to submit to the PESO on regular basis list of job vacancies in their respective establishment in order to facilitate the exchange of labor market information services to job seeker and employers by providing employment services to job seeker, both local and overseas employment, and recruitment assistance to employers;
Develop and administer testing and evaluation instruments for effective job selection, training and counseling;
Provide persons with entrepreneurship qualities access to the various livelihood and self- employment programs offered by both government and non- governmental organizations' at the provincial /city/municipal/barangays levels by undertaking referrals for such programs;
Undertake employability enhancement trainings / seminar for jobseekers as well as those would like to change career or enhance their employability. this function is presently supervised by TESDA and conducted by other training;
Provide employment and occupational counseling, career guidance, mass motivation and values development activities;
Conduct pre- employment counseling and orientation to prospective local and overseas workers;
Prepare and submit to the local sanggunian an annual employment plan and budget including other regular funding sources and budgetary support of the PESO.
EMPLOYMENT FACILITATION SERVICES
Accomplishment Report 2017
In partnership with the Department of Labor and Employment-10, the Provincial Public Employment Service Office (PESO) implemented the Special Program for Employment of Students which benefitted 853 students. Recruitment activities were also conducted through job fair and special recruitment activities.
Gov. Bambi Emano as a speaker during the Special Program for Employment of Students (SPES) Orientation 2017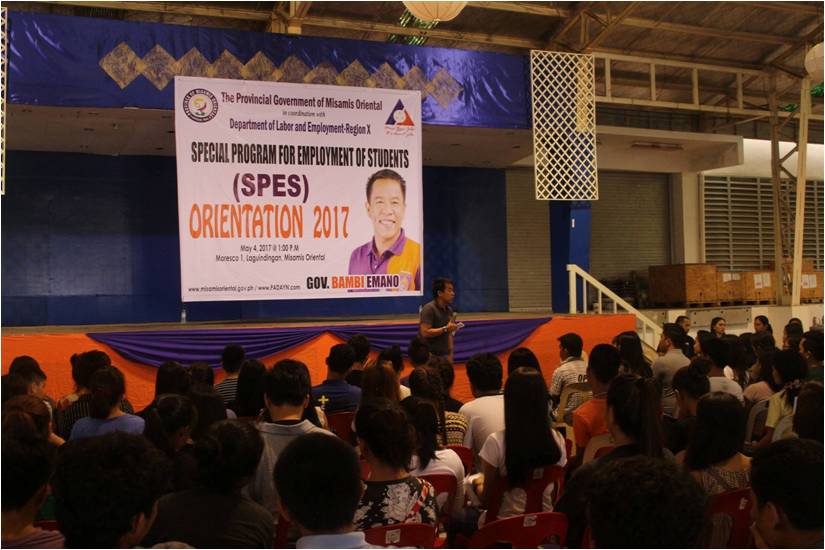 Gov. Bambi Emano as a speaker during the Special Program for Employment of Students (SPES) Orientation 2017
During the registration for the Special Program for Employment of Students (SPES) Orientation 2017
Comment/Feedback/Suggestion