PSWDO, UBAY-UBAY ANG NATUNOL NGA SERBISYO SA KATAWHAN
Posted: March 16, 2020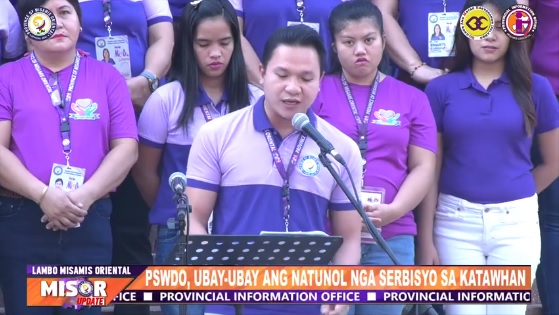 Bisan suspendido pa karon ang MisorCares tungod sa mga batikos ug panghimaraut sa maong buhatan, midiritso ang PSWDO nga mihulip aron sa ingon nga dili mabiya ang katawhan nga napihig sa serbisyo sa ubang ahensya sa Gobyerno.
Atol sa gipahigayon nga flag rasining niadtong lunes gihatagan ug dakong gimbug-aton ang Aid for Individual in crisis situation/crisis support program.
Naghatud ug ubay-ubay nga serbisyo sa katawhan ang Provincial Social Welfare and Development Office Susama sa CALAMITY ASSISTANCE nga adunay 160 ANG NAKABENEPISYO sa mukabat 381,000 NGA PONDO gawas pa sa TRANSPORTATION ASSISTANCE diin 33 KA MGA TAO ANG NASERBISYUHAN gikan sa 110,376 NGA BUDGET, FINANCIAL ASSISTANCE alang sa DRUGS AND MEDICINES diin 84 KA MGA TAO ang nakadawat niini GIKAN SA 303,747. Gawas niini duna sab EMBALMING SERVICES diin nasayran nga 45 KA MGA TAO ANG NAKAPAHIMULOS gikan sa MUKABAT 171,000, BLOOD ASSISTANCE-122 nga adunay 146 BAGS SA DUGO ug naka serbisyo sa MIKABAT NAG 215,800 ug FINANCIAL ASSISTANCE-141 NGA MUKABAT USAB SA 701,015.50.
Matag lunes sa kapitolyo probinsyal, wala gayuy higayon nga walay muduol kang gobernador Bambi Emano diha sa Provincial Governor's Office alang sa peoples day. Gigahin kini nga adlaw sa Gobernador alang sa publiko nga buot muhimamat kaniya.