SUGGESTION BOX, GI-PROMOTE OG MAAYO NI GOV. EMANO
Posted: June 22, 2020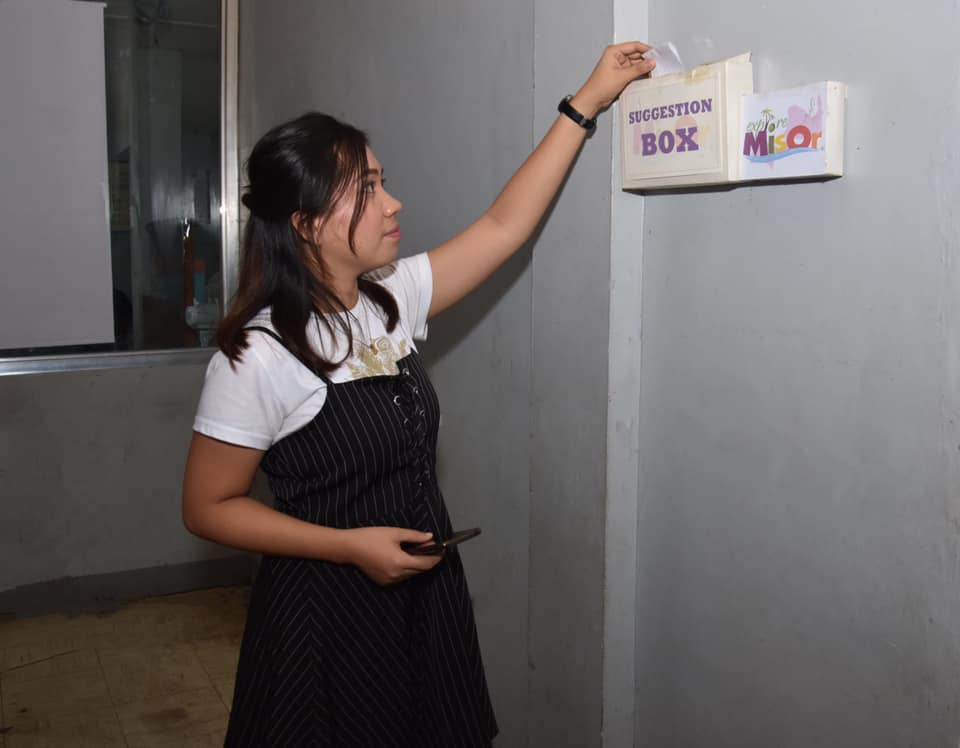 DILI paman mahibal-an kung kanus-a mahuman ang krisis nga gisagubang karon sa tibuok kalibotan tungod sa hulga sa coronavirus disease 2019, apan buot ni Gov. Bambi Emano nga mahimong sayon ang pagpanerbisyo sa katawhan luyo sa krisis. Tungod niini, nangayo'g maayong hunahuna ang amahan sa lalawigan gikan sa iyang mga empleyado sa kapitolyo, pinaagi sa paghulog niini sa suggestion box nga gipahimutang sa Capitol lobby.
Matud ni Gov. Emano, "no man is an island", mao nga gikinahanglan niini ang maayong hunahuna gikan sa mga empleyado, kinsa adunay dakung responsibilidad aron matunolan sa tiunay nga serbisyo ang katawhan.
Giawhag sa gobernador ang mga kawani sa kapitolyo nga maghatag idea ug sugyot aron bisan tuod ania kita karon sa gitawag, "new normal," dili mabalda ang serbisyo sa publiko.
"I want our employees to recommend to us ideas on how we are able to implement the new normal. I have said that walay usa ka tao nga naka monopoliya's hunahuna ako di nako mahuna hunaan tanan kanang tanan na implementar dana, dina kay bunga sa akong nahunahunaan lang. Kana, akong na-implementar tungod kay daghan ang gaabot nga mga suggestion basin ug dunay mga butang nga wala namo makita nga naa sa inyong hunahuna," aghat ni Gov. Emano.
Lakip sa new normal, matud ni Gov. Emano, ang pagsuot sa facemask, social distancing, pagpanghugas sa kamot, ug paggamit sa alcohol isip precautionary measure batok sa posibleng pagtakboy sa COVID-19.