THE PHILIPPINE MARINE RECRUITMENT
Posted: April 25, 2018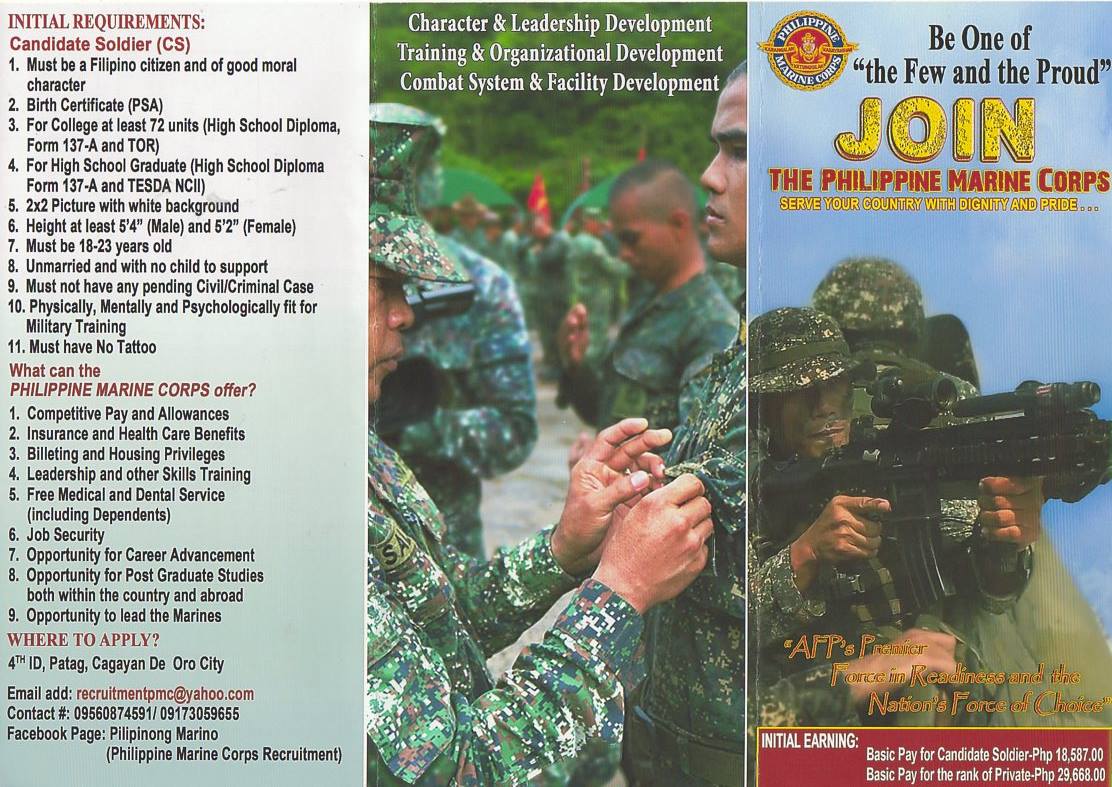 [et_pb_section admin_label="section"][et_pb_row admin_label="row"][et_pb_column type="4_4″][et_pb_gallery admin_label="Gallery" fullwidth="off" show_title_and_caption="off" show_pagination="on" background_layout="light" auto="off" hover_overlay_color="rgba(255,255,255,0.9)" caption_all_caps="off" use_border_color="off" border_color="#ffffff" border_style="solid" posts_number="3″ gallery_ids="1853″] [/et_pb_gallery][et_pb_text admin_label="Text" background_layout="light" text_orientation="left" use_border_color="off" border_color="#ffffff" border_style="solid"]
TO THOSE WHO ARE INTERESTED ABOUT THE PHILIPPINE MARINE RECRUITMENT, HERE ARE THE DETAILS:
Malambuong Adlaw!! (Alang sa mga free date users)
The PHILIPPINE MARINE CORPS is in need of new members coming from Misamis Oriental. It can offer the following:
1. Competitive pay and Allowances (Basic pay of P18,587.00 for Candidate Soldier; Basic pay of P29,668.00 for Private)
2. Insurance and Health Care Benefits
3. Billeting and Housing Privilege
4. Leadership and other Skills Training
5. Free Medical and Dental Services
6. Job Security
7. Opportunity for Career Advancement
8. Opportunity for Post Graduate Studies both within the country and abroad
9. Opportunity to lead the Marines
For those interested, please submit these initial requirements:
1. Birth Certificate (PSA)
2. For High School Graduate/Senior High School, TESDA NC II.
For college level, must have at least 72 units and TOR
For college graduate, TOR.
3. Application form (please see and download the application form)
Submit the initial requirements to the office of Iskolar Ko Ni Bambi (IKNB), Provincial Capitol, Velez St., CDO not later than MAY 8, 2018. LIMITED SLOTS ONLY!
Qualifications:
1. Must be a Filipino citizen and of good moral character
2. 2×2 Picture white background
3. Height at least 5'4" (Male) and 5'2" (Female)
4. Must be 18-23 years old
5. Unmarried and with no child to support
6. Must not have any pending civil/criminal case
7. Physically, mentally, and psychologically fit for military training
8. Must have no tattoo.
[/et_pb_text][/et_pb_column][/et_pb_row][/et_pb_section]