WALA PAGREKOGNISAR NI BM ALLAN MANDOQUITA GIKASUBO NI GOV. BAMBI
Posted: August 19, 2020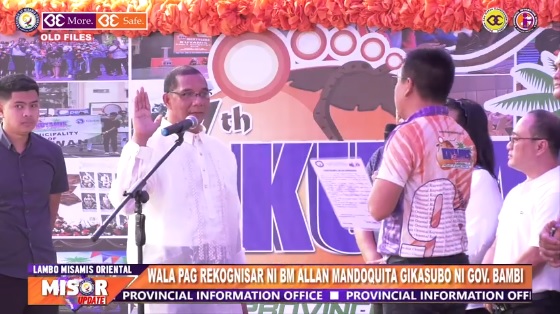 Atol sa programang Lambo Misamis Oriental kung asa bisita si Governor Bambi Emano, gibutyag sa amahan sa lalawigan nga gikasubo niya og maayo nga hangtud karon wala pa gihapon girekognisar ang pagtudlo ni Board Member Allan Mandoquita.
Si BM Mandoquita ang representante sa Indigenous People kon mga lumad sa Misamis Oriental ngadto sa hawanan sa Sangguniang Panlalawigan. Nanumpa sa katungdanan si Board Member Mandoquita niadtong bulan sa Enero atol sa Kuyamis Festival ug sugod niadto nitambong na sa regular nga mga sesyon sa Sangguniang Panlalawigan ug mga kalihokan ug ni isa wala kini miabsent.
Tungod sa wala pagrekognisar ni Bise Gobernador Jigjag Pelaez bisan paman nga kumpleto ang tanang papeles niini, wala pa gihapon kimi makadawat sa iyang sweldo sugod sa bulan sa Enero. Gikasubo kini nga hitabo sa mga igsuong lumad kay dako nga butang alang kanila nga naay morepresentar sa hawanan sa Sangguniang Panlalawigan gikan sa ilang bahin, kay kini usa sa mga pamaagi aron mas dali nilang mapadayag ang ilang mga panginahanglan ug mga sentimiyento.
Gipanghingusgan ug gipanawagan karon ni Governor Bambi Emano si Pelaez lakip ang buhatan sa Department of Interior and Local Government (DILG) nga unta masulbad na kining maong problema ug marekognisar na ang pagkatudlo ni Board Member Allan Mandoquita ngadto sa hawanan sa Sangguniang Panlalawigan.