CREATION OF THE PEO
The PEO was created on July 28, 1968 through the Executive Order formulated by the Sangguniang Panlalawigan (SP) of Misamis Oriental in support to the Republic Act 917 directing the local government, to establish a local government engineering office as part of a national DPWH decentralization program and as an engineering line agency whose main functions are to perform maintenance activities of"feeder" roads implemented by the DPWH.The funding for road maintenance projects were arranged to be 70% downloaded from the DPWH and 30% counterpart from the PLGU. Eventually, the PLGU developed a wider scope of responsibility in dealing with road maintenance activities. The decentralization of DPWH function results to the autonomy of the PLGU of Misamis Oriental in the determination and implementation ofroad and other infrastructure projects in the provincial level.
From 1977, eight Provincial Engineers have led the undertakings of the Office, namely:
| Period | Provincial Engineer |
| --- | --- |
| 1977-1978 | Engr. Modesto C. Babaylan |
| 1978-1992 | Engr. Aniano H. Paraguya |
| 1994-1998 | Engr. PatrocenioBarredo (OIC) |
| 1992-1994 | Engr. ArthuroCambaya |
| 1998-2000 | Engr. Julito L. Tac-an |
| 2001-2004 | Engr. Lester D. Bolo (OIC) |
| 2004-2013 | Engr. Rolando M.  Pacuribot (OIC) |
| 2013-June 2014 | Engr. Julito L. Tac-an |
| June 2014- Present | Engr. Lester D. Bolo (OIC) |
Since the flagship contribution of the Marcos Administration was the construction of the national highways all over the Philippine archipelago, the maintenance and rehabilitation of roads was the primary program of the national government upon the establishment of the PEO. Along with time, the PEO advanced its capability and improved its services to deliver quality technical engineering services to its constituents. As a frontline agency belonging to infrastructure sector of the provincial bureaucracy, the office continued its search for excellence in providing technical engineering services consistent with the national standards of the DPWH in implementing infrastructures for horizontal and vertical projects.
With the help of external assistance and other international development agencies such as the Australian Agency for International Development (AUSAID) through the Provincial Roads Management Facility (PRMF) whose entry point since 2010 was road managementand development based on rational and logical selection criteria, i.e., formulation of the Provincial Roads Network Development Plan(PRNDP),the PEO has evolved into a more competent, effective and efficient organization in terms of the following: (a) project planning and implementation, (b) monitoring of infrastructure projects; and, (c) assessment and evaluation to effect substantial economic and societal outcome. To date, the PEO has conducted around 90 various capacity development activities for engineers and other selected frontline administrative personnel.
At present, PEO has various plans subject to the approval of the LCE for effective delivery of its functions and mandate, such as, but, not limited to the following;
PRNDP which is a five-year road management and development plan utilizing scientific prioritization of provincial roads based on rational and logical selection criteria with respect to the LGU's limited fund resource. Community and Stakeholder's Consultation and community involvement in project implementation and sustaining the quality of road condition after the implementation are the fundamental features of the PRNDP.
Road Maintenance Strategy (RMS) which is a maintenance strategy taking into account the kind of maintenance activity applicable to a distinct road condition. The strategy employs clustering of maintenance areas wherein Heavy Equipment Teams are distributed to three cluster areas to immediately address road maintenance concerns within their jurisdictions.
OFFICE FUNCTIONS AND MANDATES
The PEO is the planning, as well as, the implementing department of all engineering- related activities of the Provincial Government committed to improve the quality of living of its constituents by providing valuable service in the maintenance and concreting of provincial roads as well as the construction of various infrastructures leading to tourism sites/destinations of the province. The office is dedicated to provide quality technical service in the field of planning and designing of various infrastructures to all the municipalities and barangays in the province.
PEO VISION
The Provincial Engineer's Office of Misamis Oriental is a technically advanced and globally competitive,
customer service oriented organization that pursues the goal of infrastructure and poverty alleviation.
Its God-fearing and competent professionals who developed leaders within their fields of expertise
are committed to provide economical, responsive and effective engineering services through collective excellence
while fulfilling their responsibility to protect the environment.
PEO MISSION
To provide infrastructure and equipment support services to socio-economic programs for poverty alleviation.
To provide quality engineering technical services to municipalities and barangays in the province.
To manage professionally and efficiently all provincial infrastructure programs and project.
To improve accessibility of public services and efficient all weather flow of agricultural and industrial commodities.
To develop opportunities including in-house training, seminars and mentoring as part of a total program of individual skills growth for each employee.
Download Link:
District 1 Updates
District 2 Updates
Completed Projects
2015 & 2016 Completed Projects
On going Projects
For turn-over & Inauguration
History and Process Flow
HISTORY OF BARANGAY INFRASTRUCTURE TEAM
The current Provincial Government through the leadership of Governor YevgenyVincente B. Emano, issued a memorandum order 2015-017 and 2015-018, to create a team in addition to the present function a Barangay Infrastructure Team. The purpose of this team headed by Assistant Provincial Engineer Tessie B. Gales, is to ensure proper, effective and on time delivery of program and projects to respective barangay in the province.
Basic services the team provide the validation through (qualifying and monitoring) the requested priority projects. In coordination to the Planning and Design division detailed estimates program of works and plans be prepared and approved by the Governor for implementation. Another services the team provide is the monitoring and inspection during the implementation of the project until its completion either by contract or by administration.
FLOW OF DOCUMENTS AND ACTIVITIES RE: BARANGAY PRIORITY PROJECTS (BIP/PEO)
FOR PRIORITY PROJECTS ON CONTRACT:
GOVERNOR'S OFFICE THROUGH OFFICE OF BARANGAY AFFAIRS RELEASED LIST OF PRIORITY PROJECTS AND FURNISHED COPY TO BARANGAY INFRASTRUCTURE PROJECTS TEAM/PEO.
BARANGAY IFRASTRUCTURE TEAM WITH COORDINATION OF PEO PLANNING DIVISION CONDUCT VERIFICATION/EVALUATION OF THE PROPOSED PROJECT AT THE SITE.
PEO PLANNING DIVISION PREPARE PLANS AND PROGRAM OF WORKS.
PEO ADMIN. DIVISION PREPARE PURCHASE REQUEST, OBLIGATION REQUEST AND OTHER PERTINENT DOCUMENTS.
CONCERN DEPARTMENTS WHERE FUNDING ORIGINATED FOR SIGNATURE.
BUDGET DEPARTMENT FOR CONTROL AND SIGNATURE.
ACCOUNTING FOR CONTROL AND SIGNATURE.
TREASURER FOR CONROL AND SIGNATURE.
GOVERNOR'S OFFICE FOR APPROVAL.
BIDS AND AWARDS COMMITTEE FOR EVALUATION AND BIDING. (FOR CONTRACT PROJECT)
RELEASE CHECK TO BARANGAY FOR IMPLEMENTATION BY ADMINISTRATION.
PROJECT IMPLEMENTATION BY CONTRACT.
MONITORING AND EVALUATION OF THE IMPLEMENTED PROJECT BY BIP AND PEO PROJECT MONITORING TEAM.
Infrastructure (Contracted-out)
About 33 contracted-out infrastructure projects were coordinated by the Provincial Engineer's Office which project cost amounted to more than PhP 283.9M. About 19 projects have already been completed which amounted to more than PhP36M with various funding source (20% development Fund, Special Education Fund, Trust Fund). The completed projects for 2017 are as follow:
| | | |
| --- | --- | --- |
| Location | Name of Project | Amount |
| 1. Balingasag | Construction of Covered Court at San Juan NHS | 2,354,644.67 |
| 2. Balingasag | Rehabilitation of Kibanban Footbridge | 4,353,993.18 |
| 3. Claveria | Completion of Unfinished Covered Court | 1,918,231.94 |
| 4. Claveria | Construction of Sta. Cruz Covered Court | 282,172.00 |
| 5. Gingoog | Construction of 1-Classroom School Building at Alfonso Militante Ang ES at Barangay 26 | 995,449.50 |
| 6. Gingoog | Construction of School Comfort Room Facilities at Kipuntos ES | 313,828.53 |
| 7. Initao | Construction of 1-Classroom School Building at Tawan-tawan ES | 1,113,979.08 |
| 8. Initao | Construction of 1-Classroom School Building at Andales Integrated School | 1,113,979.08 |
| 9. Jasaan | Proposed Sagpulon Falls Site Development | 999,518.55 |
| 10. Kinoguitan | SOTA Laboratory Techvoc Beauty Care NC II Bldg (7mx16m) at Esperanza NHS | 2,208,942.65 |
| 11. Manticao | Construction of Track Oval at Cabalantian NHS | 251,662.56 |
| 12. Manticao | Construction of 1-Comfort Room at Manticao NHS | 187,638.53 |
| 13. Manticao | Improvement of Mandahilag-Macopa Road | 9,944,721.80 |
| 14. Medina | Concreting of Junction-Mintugas San Roque Provincial | 499,414.10 |
| 15. Medina | Completion of G. Pelaez ES Covered Court | 2,047,327.40 |
| 16. Medina | Construction of 1-Classroom School Building at Labas Pagsama ES | 1,109,546.81 |
| 17. Talisayan | Proposed Seawall at Sta. Ines NHS | 1,993,618.03 |
| 18. Villanueva | SOTA Tile Setting & Masonry Building (10mx27m) at Kalingagan NHS | 4,110,000.00 |
| 19. Cagayan de Oro City | Construction of Canopy and Pavement at MOGCHS Waiting Area | 210,101.71 |
| | Total | P 36,008,770.12 |
There are also about 14 contracted-out projects which implementation is still on-going. The said projects amounted to more than PhP 253M which funding are from 20% Development Fund, Special Education Fund and Trust Fund, to wit:

| | | | |
| --- | --- | --- | --- |
| Location | Name of Project | Amount | Physical Accompl(%) |
| 1. Medina | Improvement of Medina-Balakbakan Provincial Road | 2,995,846.57 | 15% |
| 2. Manticao | Upgrading of Manticao-Cabalantian-Mahayahay-Limunda Provincial Road | 218,302,398.42 | 1% |
| 3. Jasaan | Construction of Luz Banson ES Covered Court | 3,757,394.49 | 42.50% |
| 4. Gingoog City | Completion of Covered Court at Gingoog NHS | 3,946,530.02 | 30% |
| 5. El Salvador City | Completion of Barangay Cogon Covered Court | 2,800,000.00 | 89.60% |
| 6. Tagoloan | Proposed 1-Classroom Integrated School at Maribojoc ES | 1,032,824.32 | 90% |
| 7. Balingasag | SOTA Laboratory Tile Setting and Masonry Bldg. at Mambayaan NHS | 4,093,473.81 | 96.12% |
| 8. Claveria | Construction of 1-Classroom School Building at Minalwang Integrated School | 1,129,884.41 | 85% |
| 9. Claveria | Additional Construction of 1-Classroom School Building at Minalwang Integrated School | 1,021,238.93 | 87.21% |
| 10. Opol | Construction of 1-Classroom School Building at Cauyunan ES | 1,125,104.75 | 70.55% |
| 11. Opol | Construction of 1-Classroom School Building at Limunda ES | 1,125,104.75 | 26.01% |
| 12. Opol | Construction of 1-Classroom School Building at Tingalan ES | 1,098,714.00 | 76.05% |
| 13. Magsaysay | Construction of Quarantine Structure | 6,498,948.59 | 75.50% |
| 14. Cagayan de Oro City | Proposed Demolition and Renovation of Provincial Capitol Roofing-Phase 1 | 4,996,482.28 | 75.20% |
| | Php | 4,996,482.28 | |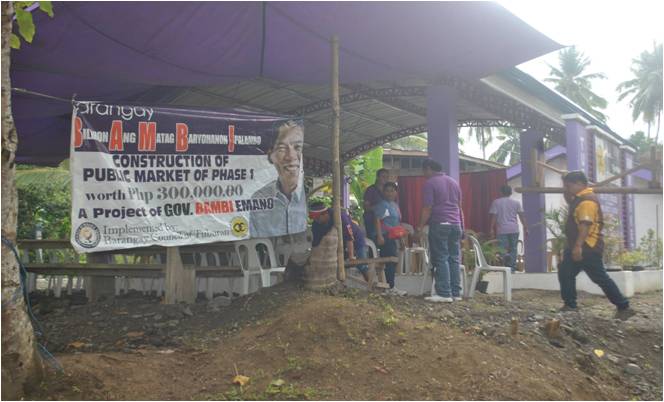 During the construction of public market of phase 1, at Brgy. Tubaran.
The newly built classrooms which was turned over to Lugait, Misamis Oriental worth Php 1,940,345
During the road construction at Opol, Misamis Oriental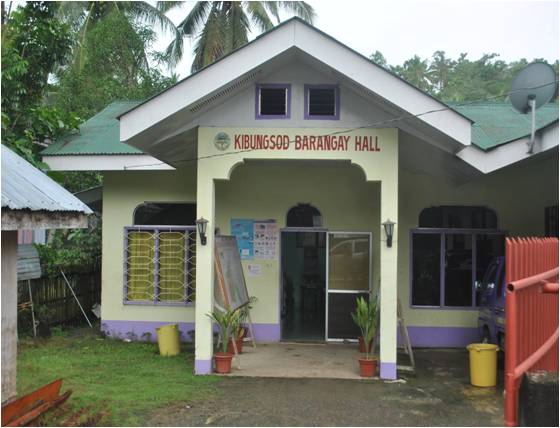 A photo of Kibungsod Barangay Hall
The finished water system of Kibuging, Gingoog CIty
Piles of construction materials ready to be used