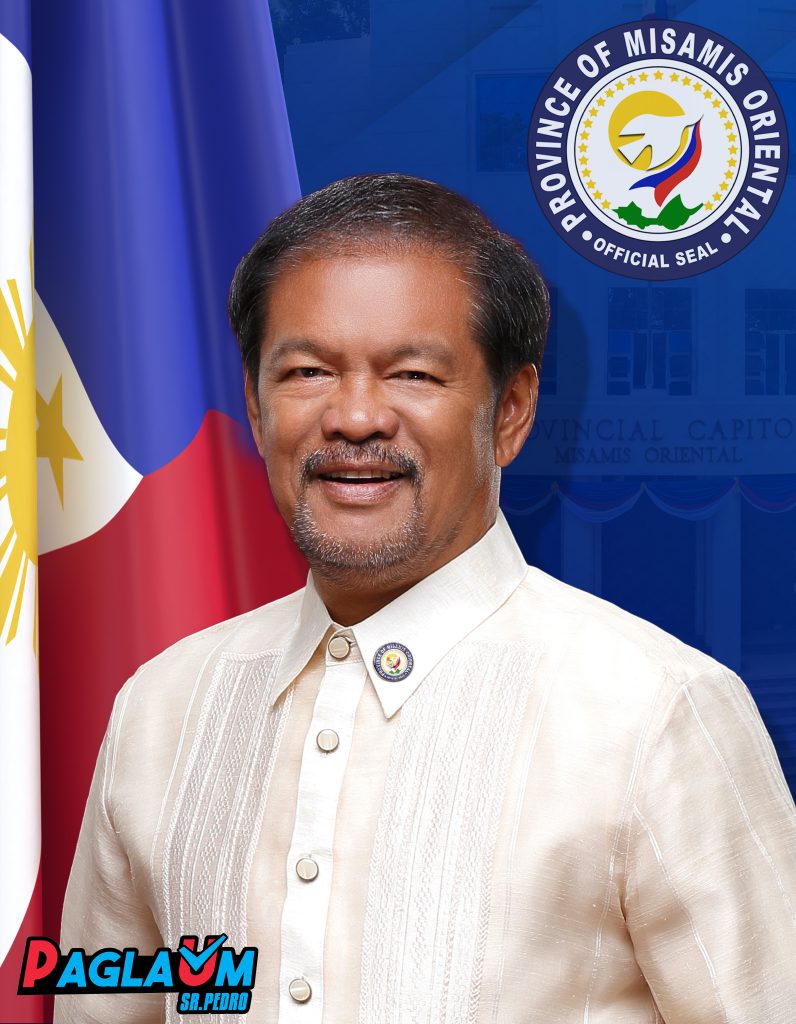 A man of humble roots, Gov. Peter M. Unabia understands the plight of the Filipino rural poor, having experienced this in his early years. He grew up in Malaybalay, Bukidnon, where his parents Daciano 'Ciano' and Teresa 'Tering' tilled a tract of land of their respective parents who were beneficiaries of the Commonwealth Act 141- Homestead Patent of 1936 so that their eleven children could go to school. He received a scholarship from the Jesuit priests in Xavier University taking up BS Agriculture major in Agronomy. After his graduation, in return for the help given by the Jesuit priests, he volunteered to the Jesuit Volunteers of the Philippines (JVP) for 14 month as an Agricultural Technician for Mangyan farmers in Mindoro.
His personal experiences and desire to help uplift the lives of the farmers fuelled his aspiration to run in public service.
As a board member in the 1st District of Misamis Oriental, he enacted and created ordinances and resolutions to appropriate funds for the programs and projects of the province.
As a three-term congressman, Peter Unabia champions agricultural development to establish lasting and sustainable rural economic progress. He is one of the chief proponents of RA 10969, a landmark legislation that provides free irrigation service to farmers. He is considered as the "Father of Livelihood" in Misamis Oriental for creating programs and various projects that will generate jobs and employment for the people.
He served as Vice-Mayor of Gingoog City in 2019 assisting the City Mayor in formulating the GOLD Strategic Direction GOLD which translates to G-ood Governance and Transparency, O-pportunities for Agriculture and Tourism Development, L-ivelihood Development and D-elivery of Health, Education and Social Services to attain a progressive and prosperous Gingoog City.
As the current Governor of Misamis Oriental, he brings the PAGLAUM Strategic Direction, a comprehensive government action plan and agenda to address the problems of the province and transform Misamis Oriental into a progressive and competitive province in the Philippines.
Participatory Governance
Agricultural Development for poverty eradication
Goal Oriented Tourism
Livelihood and Employment through Industry Development
Aggressive programs for Youth Welfare Development
Unified Efforts for Health and Social
Mobilization of Resources thru Equitable Sharing
Gov. Unabia earned his Bachelor of Science in Agriculture degree under the Fr. Masterson Scholarship Program of Xavier University – Ateneo de Cagayan. He and his wife Erlinda have three children: Christian, Joshua, and Aaron Paul.
Oneline / Tagline: (Bisaya/Cebuano) "Ang PAGLAUM sa Misamis Oriental, Ang Amahan sa Panginabuhian, Ang Pamilyang Misamisnon Unahon – PETER "SR.PEDRO" UNABIA