MISAMIS ORIENTAL: GOLD MINE SA TURISMO
DILI na kinahanglang molangyaw aron bisita-an ang nagkadaiyang maanindot nga talan-awon sa ubang lugar.
Gibutyag ni Provincial Tourism Council Co-chair Erlinda S. Unabia nga sama sa usa ka minahan sa bulawan sa turismo ang lalawigan. Gidugang ni Mrs. Unabia nga angayan ipasigarbo ang kultura ug talagsaong talento sa lalawigan.
Gitumbok pa niini ang dugang oportunidad sa trabaho ug cultural exchanges sa mga langyaw ug misamisnon kon molambo ang turismo.
Gikalipay ni Mrs. Unabia ang oportunidad nga nakapaambit sa iyang adbokasiya sa turismo ubos sa pamuno-an ni Gov. Peter M. Unabia.
Nanghinaot usab si Mrs. Unabia sa suporta sa PTC, Tourism office ug sa Association of Tourism Officers of Misamis Oriental (ATOM) sa mga programang ipatuman ning kasamtangang administrasyon.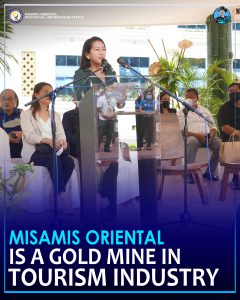 Hulagway kuha ni: Marvin Gilig/PIO