Vision
A DYNAMIC AND EMPOWERED PEOPLE OF MISAMIS ORIENTAL, SHARING SERVICES AND RESOURCES THROUGH ORGANIZED SOCIAL INSTITUTION, PROMOTING AND INTEGRATING THE PRINCIPLES OF COOPERATIVISM IN THEIR WAY OF LIFE.
Mission
THE PROVINCIAL COOPERATIVE DEVELOPMENT OFFICE SHALL ENDEAVOR TO:
FORMULATE MEASURES ENSURING THE SPEEDY DELIVERY OF BASIC SERVICES
ASSIST IN THE ORGANIZATION OF COOPERATIVES
PROVIDE TECHNICAL AND OTHER FORMS OF ASSISTANCE
ASSIST IN ESTABLISHING LINKAGES WITH NGAs AND NGOs INVOLVED IN COOPERATIVE PROGRAMS.
Cooperative Services

The Provincial Cooperative Office conduct on-site visits or validation among cooperatives and organizations requesting for financial assistance or intending to avail of the Swine Dispersal Program. It has also conducted pre-registration seminar to requesting organizations and provided assistance in the preparation of project proposals. Relatedly, the office acted as secretariat in the Provincial Cooperative Development Council.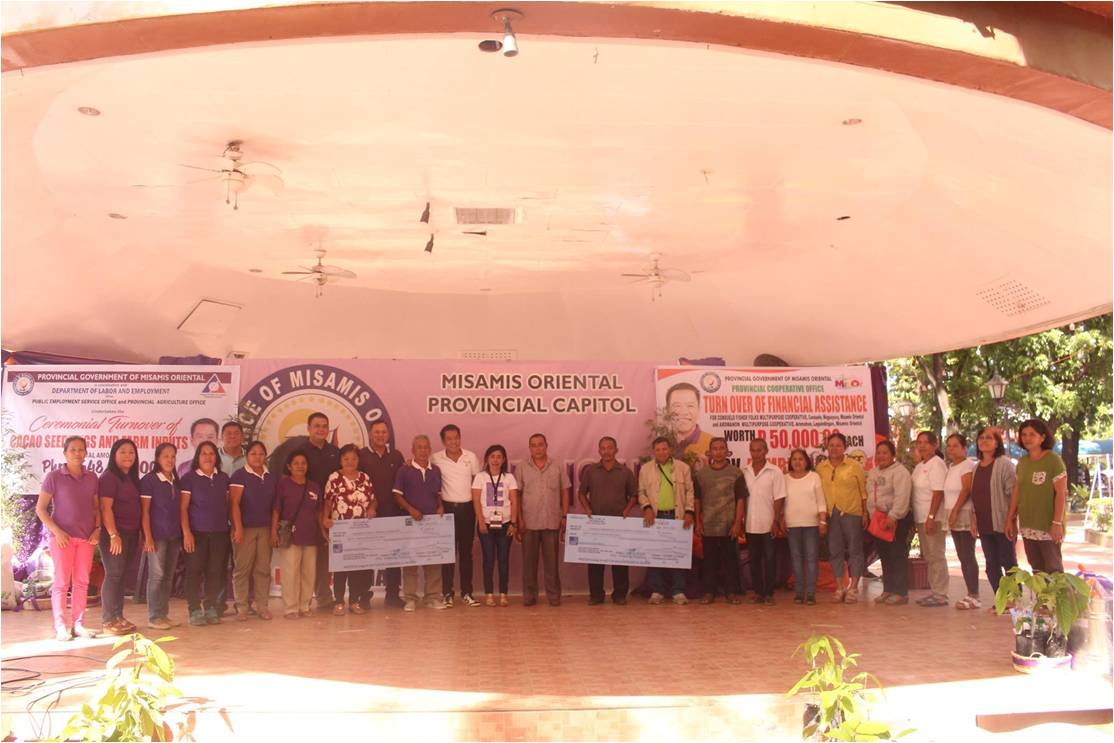 2 coops received P50,000 – aid for Misamis Oriental
Requirements to be submitted by clients per transaction
Promotion and organization of cooperatives
Conduct of Pre-Membership Education Seminar (PMES)
Letter request address to the Hon. Governor
At least 15 persons can already form into cooperative
The requesting organization must specify the date, venue and contact number in their letter of intent or they may visit the Provincial Cooperative Development Office
Provision of Financial and Livelihood Assistance
Resolution
Registration from Cooperative Development Authority (CDA)
List of Incorporators & Members
Feasibility Study of Project
Financial Statement for 3 years
By Laws & Articles
Certificate of Accreditation
Articles of Corporation
Certificate of Good Standing
Official Receipt (association/cooperative)
Request letter with Resolution address to the Honorable Governor.
PCDO Staff will conduct on site visit to the area of the requesting organization.
Only 5 weanling piglets will be distributed instead of 10 piglets with 5 sacks of feeds.
Rearing of piglets is "communal" not individual.
For every piglets received, the organization/cooperatives will pay back 2 piglets to the provincial government thru the Provincial Cooperative Development Office and you have no more obligation to the provincial government.
If the requesting party is ready with their pigsty (tangkal) just text on this number Cooperative staffs 0926-846-1753 (Elizalda S. Palanan), 0917-714-5398 (Conception Guzom), Veterinary Office 0921-535-6820 (Dr. Efren Melner S. Viloria) for inspection.